---
Updated: 04/29/2023
Another week of "sweat equity", and a little more progress made on this old Vintage Kitchen! So, Vintage Kitchen Remodel Part 3 left us at the rough inspection (for electrical, plumbing, carpentry, etc). Everything passed inspection, so now we continue on to Part 4 - Restoration Work and Cabinetry. This is where we start to see the new kitchen design take some shape and restore many of the original defining features. We will be covering hardwood floor refinishing, millwork restoration, stripping, and staining, cabinetry installation, and much more. Vintage Kitchen Remodel, Part 4, will consist of:
Status Update/Logistics
Insulation and Inspection
Floor Stripping/Repair/Sanding
Floor Stain Samples
Trim Stripping/Sanding
Trim Staining/Refinishing
Plaster Restoration
Painting
Kitchen Cabinet Installation
Restoration of Doors & Surrounds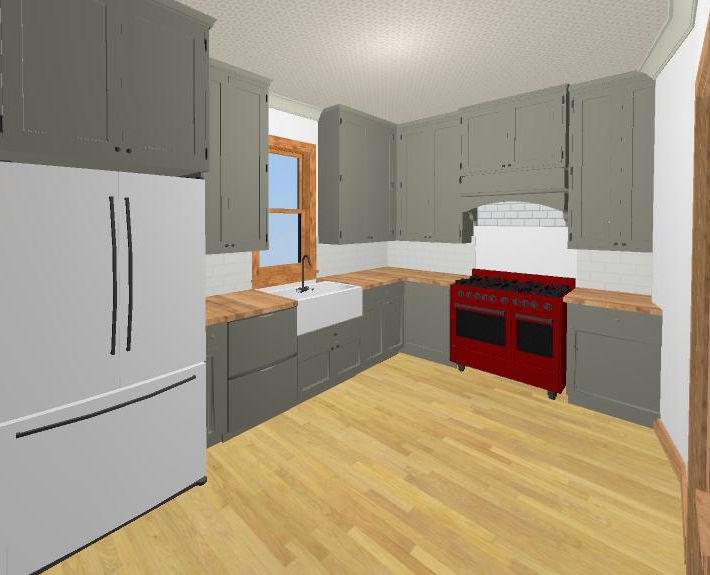 Farmhouse Kitchen Remodel – Final Design




Kitchen Remodel Status Update & Logistics
---
This phase will require tool rentals (floor sanders) or hired floor contractors.

Final site visit to the cabinetmaker (if possible) to check on the shaker-style cabinets.

Cabinets should be complete or near complete, as they are needed after the floor and trim are sanded.

Final paint and stain color selections will be needed soon.
Vintage Kitchen Insulation / Inspection
---
If any exterior walls were opened up during the remodel, it is important to make sure that they are properly insulated.

During a previous insulating project, we already had the house retrofitted with cellulose insulation, so we are good to go. It did make running the new wiring a little more difficult in a few spots.

LOGISTICS TIP: Make sure to have all new wiring complete before retrofitting with new insulation (if possible).

Open wall cavities are much easier for running new wires.

For the Vintage Kitchen remodel, we didn't open up any walls, so this step doesn't apply.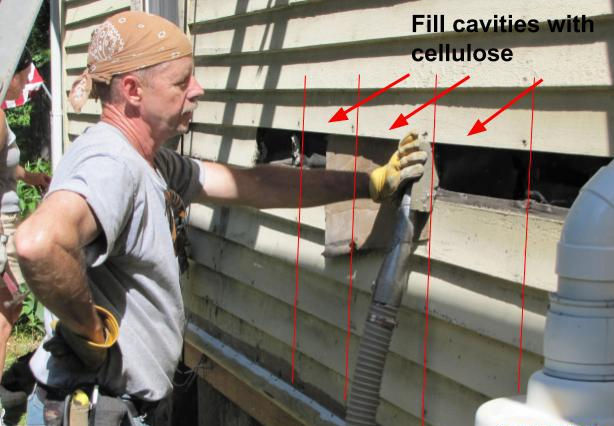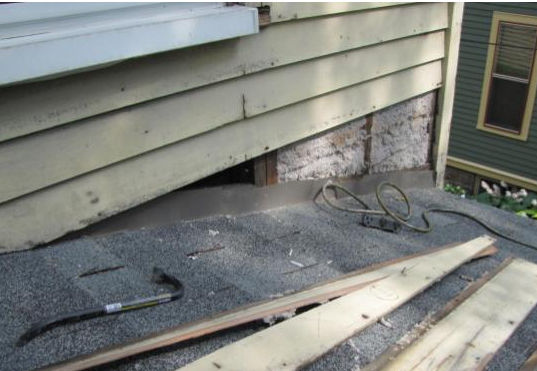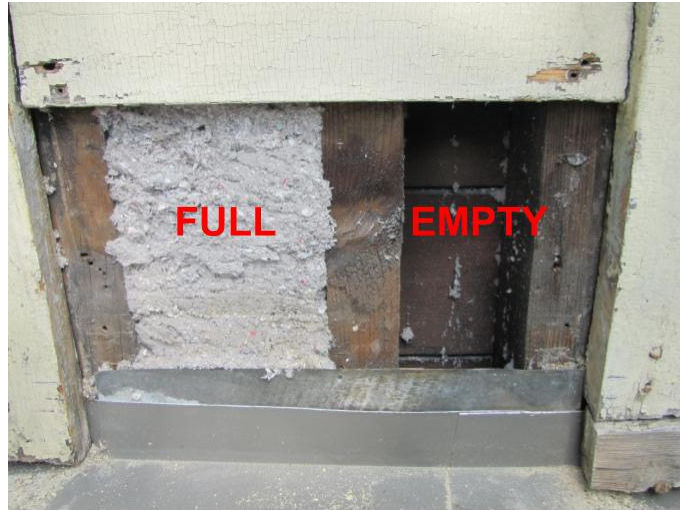 Vintage Kitchen – Wood Floor Stripping, Repair, and Sanding
---
SAFETY TIP: Always wear proper protective equipment (such as a full-face respirator) when stripping and sanding any materials. If unknown, always assume that a substance is toxic (lead, asbestos, etc).
So these floors…ohh these floors. As previously mentioned back during the Farmhouse Kitchen Remodel Part 2 – Planning, we had originally planned to install black and white tile, for a vintage look. Well, after some exploratory "surgery" we found that the original maple was under the vinyl "sticky" tiles, plywood, and remnants of some early 1900s linoleum. Take a look at the photos, the old stuff was really interesting! So we decided to "dig down" deep and the floor restoration went something like this:
The Original Wood Floor Discovery
---
Ripped up the vinyl "sticky" tiles and plywood subfloor.

We were left with the original oak covered in various layers of black tar-like glue.

Some of the old linoleum lined the perimeter of the room (under the old cabinets).

The rest of the room had all the old linoleum removed ages ago…BUT…it looked like a jackhammer had been used to chisel it up off the floor!

At this point, we thought for sure there was a 70% chance we couldn't save the floor.

There was also a layer of old paint on top of the white oak flooring.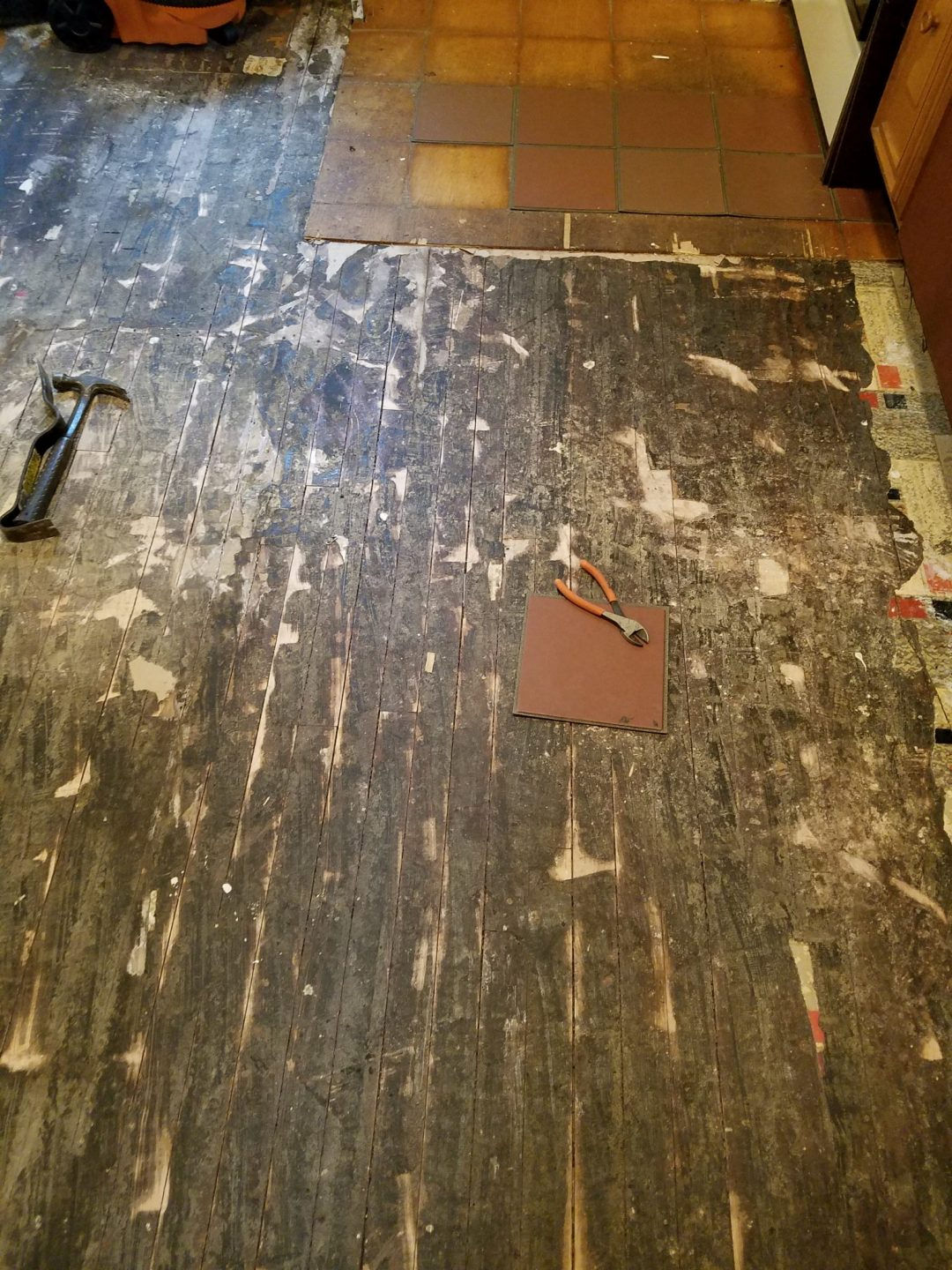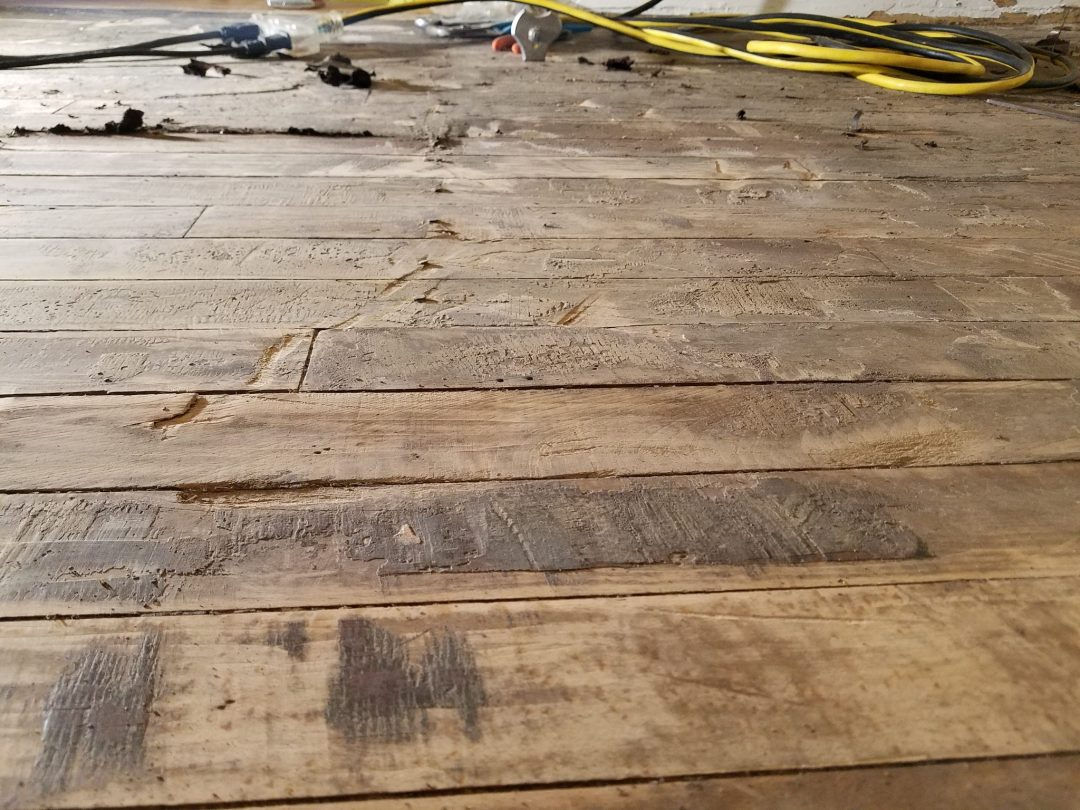 WHO DOES THIS TO A PERFECTLY GOOD HARDWOOD FLOOR???




The Hardwood Floor Work Begins
---
We want to sand the floors now to make sure they can definitely be repaired, before moving forward.

I spent about four days stripping the floor by hand, with the Speedheater™.
The Eco-Strip Speedheater™ Standard 1100
Speedheater™ Standard 1100 – It is a stripping tool that uses two infrared bulbs to heat paint and other substrates to a safe working temperature for removal (scraping), without creating toxic dust, vaporizing lead paint, or causing a fire like a heat gun may. For more info on the Speedheater™, its functions, and uses, go check out the MOHF Cool "Fix" Tools page.

Using a couple of passes and the larger scraper, I removed about 95% of the lineolium, tar, and paint.

Next I came back with my trusty 1″ Bahco carbide scraper, to remove the final bit of paint glaze that revealed the clean surface of wood. More info on scrapers HERE.

TIP: The cleaner the wood (from stripping and scraping), the easier it will be to use the floor sanders!

If you try to sand all of the "gunk" off solely with the sander, it gums up the sandpaper immediately, and you will be changing sanding discs/drums every 5 minutes!

With the process used here, I only used ONE drum of paper for each grit!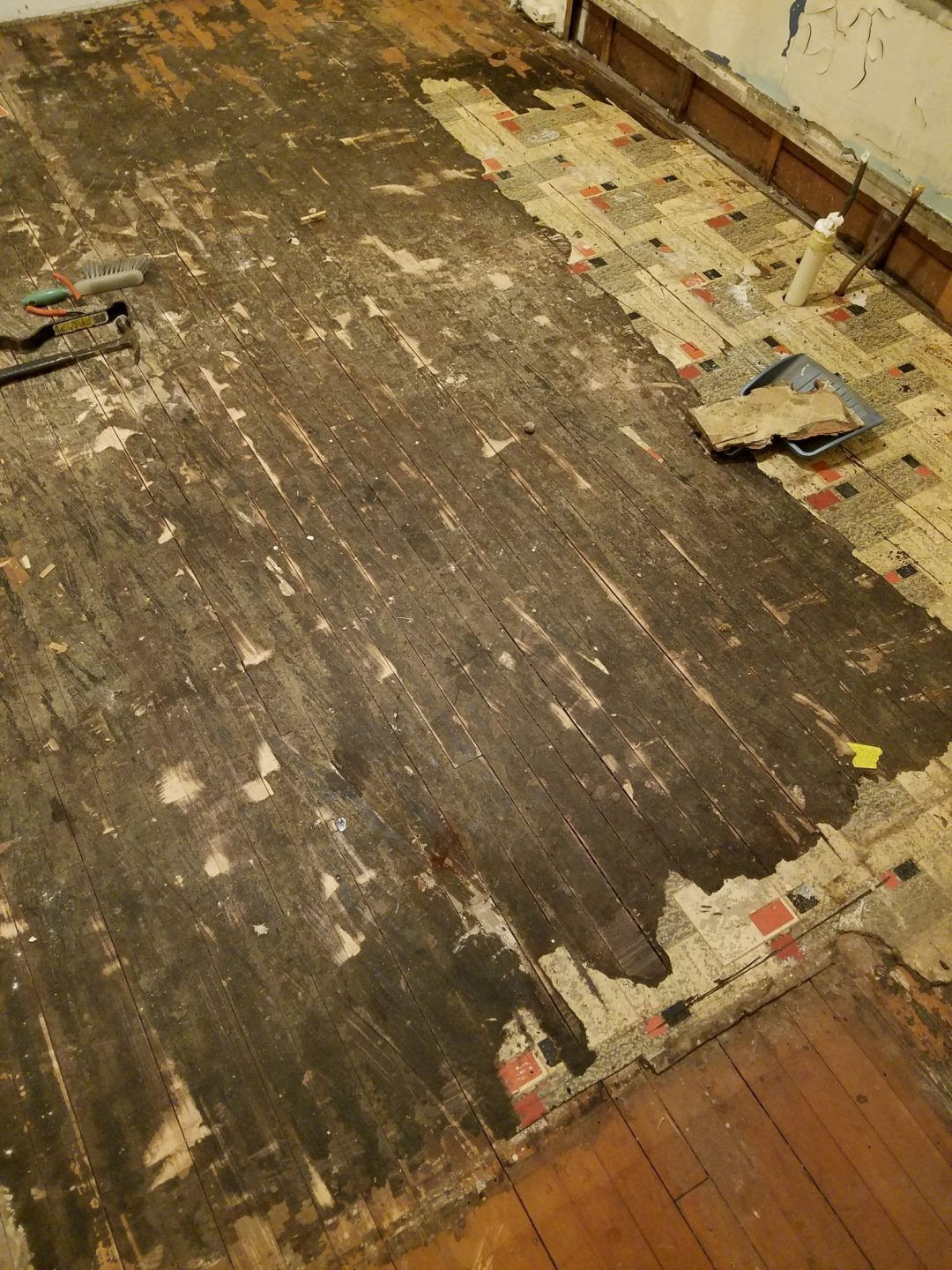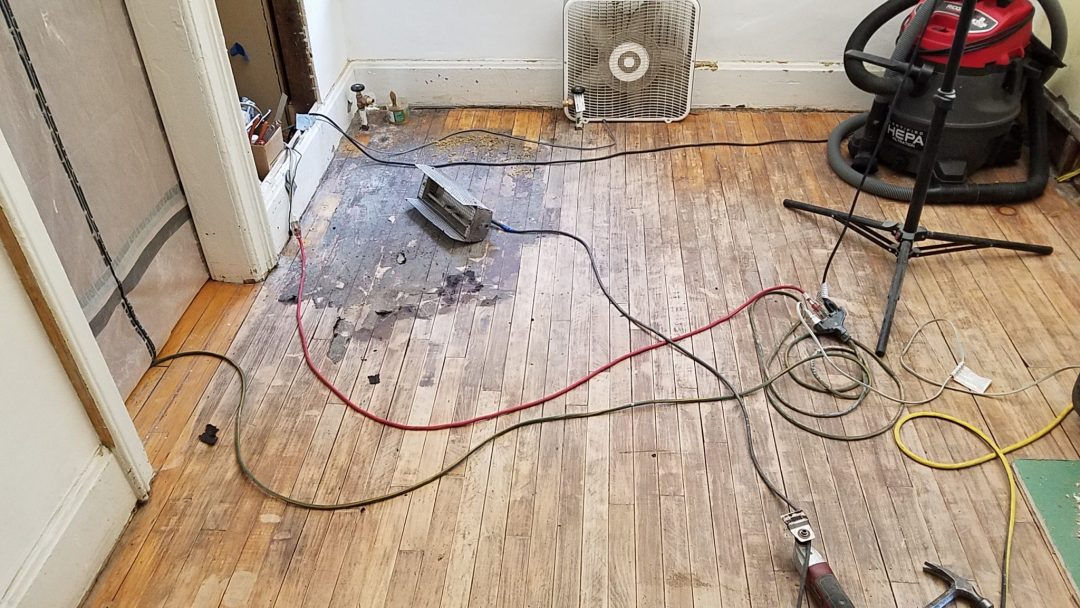 Kitchen Wood Floor Repair
---
I had a few holes to repair from old plumbing, heating, and vent pipes. Some were small, but some were pretty large. A neighbor was gracious enough to give me an old piece of maple, so the wood and grain would match.

Repaired the holes, using a hole saw kit.

Pulled out a few hundred staples from the old linoleum.

Countersunk the nail heads down past where I would be sanding.

We ended up leaving all these imperfections to give it an old, vintage, original look. After all, the oak is over 100 years old, right?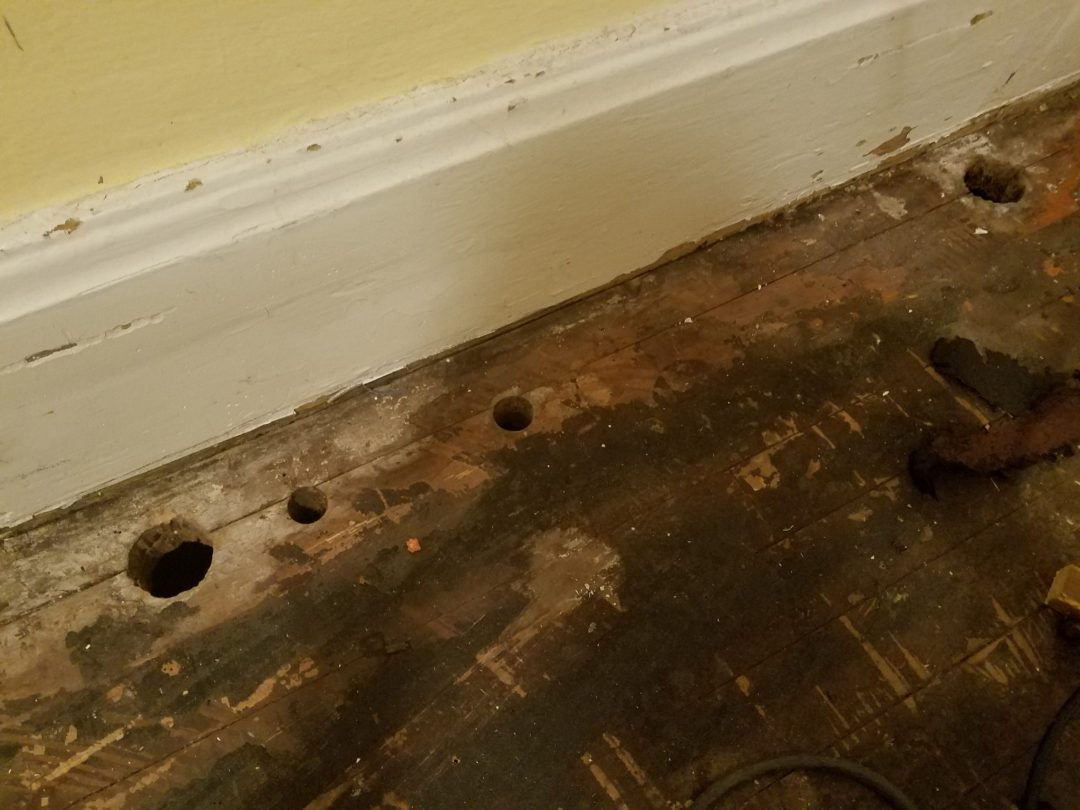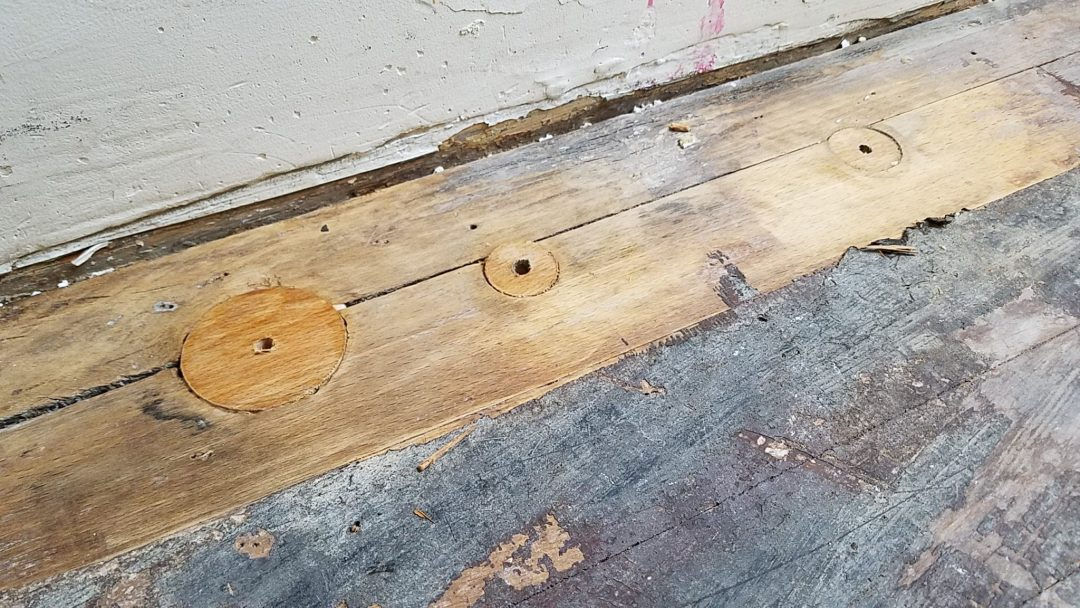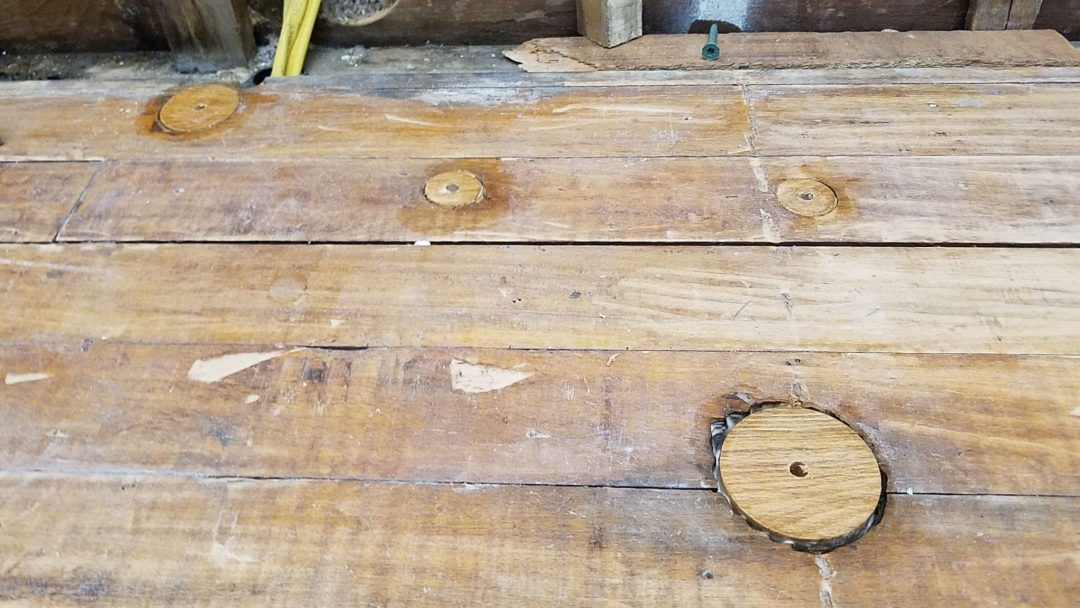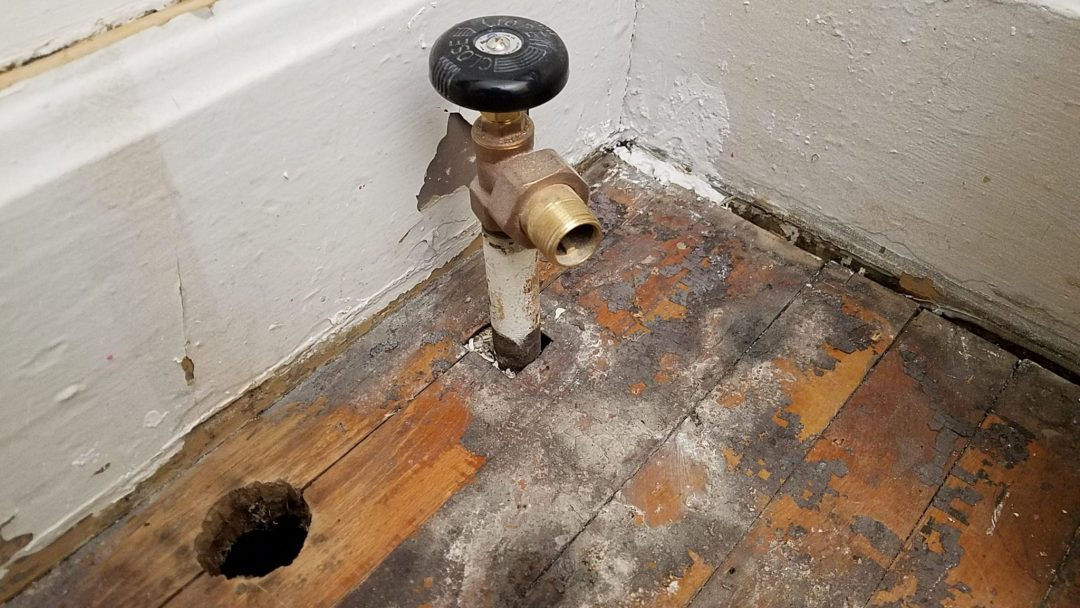 Sanding The Hardwood Floors
---
I rented a drum sander and edger from Home Depot. Go to the Home Depot Floor Sander Home Page . They also sell the sandpaper "drums" at time of rental.
TIP: Buy way more than you need! The last thing you want to do is run out of sandpaper at midnight on a Saturday. You can return the unused portion when you return the sander.

Again, our floor was so bad, we ended up following the procedures from Pete's Hardwood Floors. READ THIS – I highly recommend Pete's Hardwood Floor Sanding Tutorial. It is thorough, from A to Z! More info from Pete's HERE.
BE CAREFUL!!!
9 tips you Must Read Before Sanding Your Hardwood Floors
This is a WORST Case Senario: Our floors were so un-level and damaged we started with Pete's recommendation – 16 grit– cross-cutting 10-15 degrees off parallel (slightly on an angle vs straight).

Don't worry, it doesn't take off a ton of wood like we've always been told, so don"t be afraid to go this course on sandpaper grit, IF your floor really needs it. Your back will thank you in the morning.

Another straight pass with 16 grit (to clean up the 'cross-cut' marks – Required if you "cross-cut".
Proceeded straight with 24 grit.
Proceeded straight with 36 grit.
Proceeded straight with 60 grit. From this grit and finer, you have basically stopped removing wood, and just removing the coarse sand scratches.
Proceeded straight with 80 grit.
Proceeded straight with 100 grit.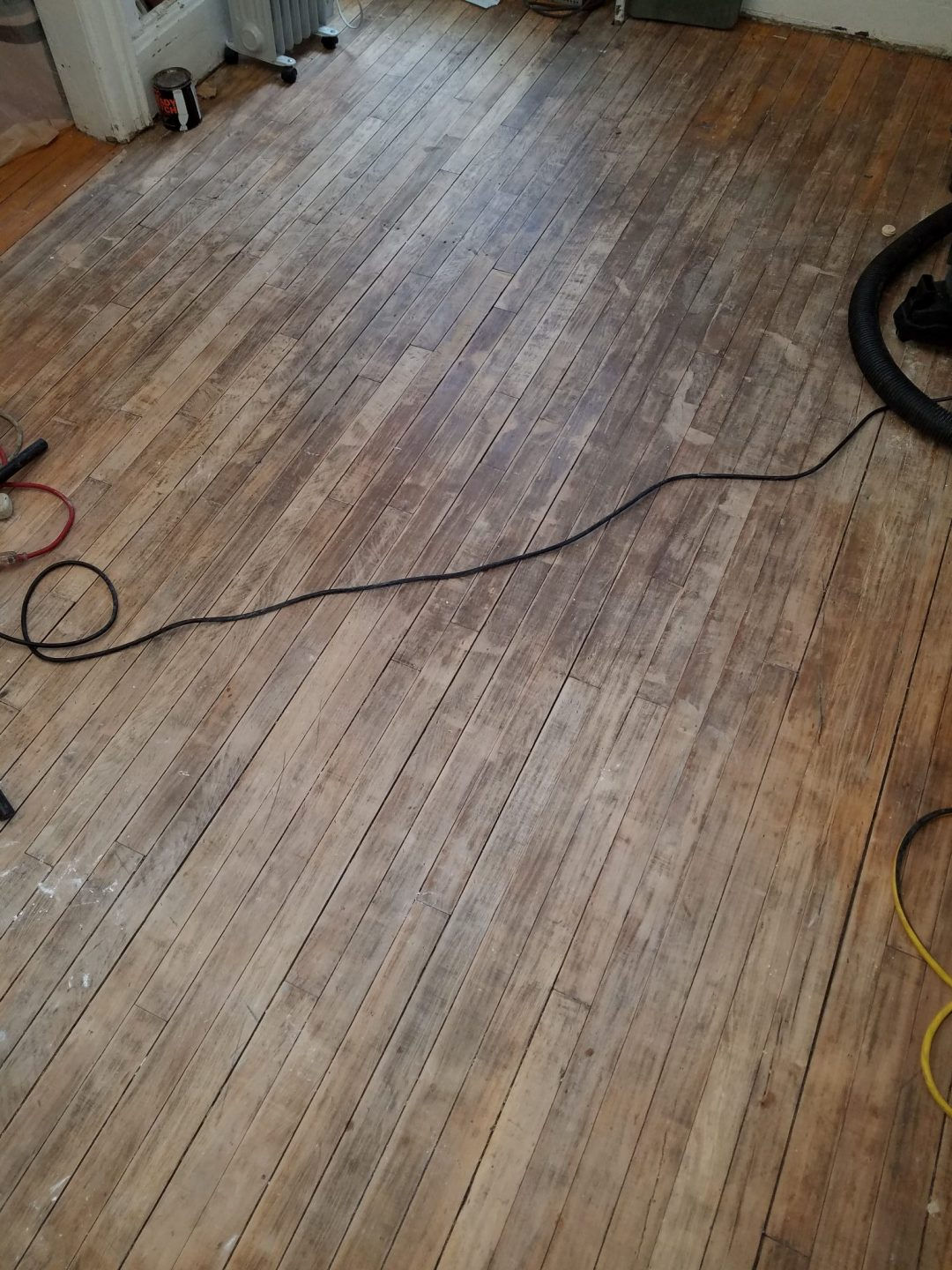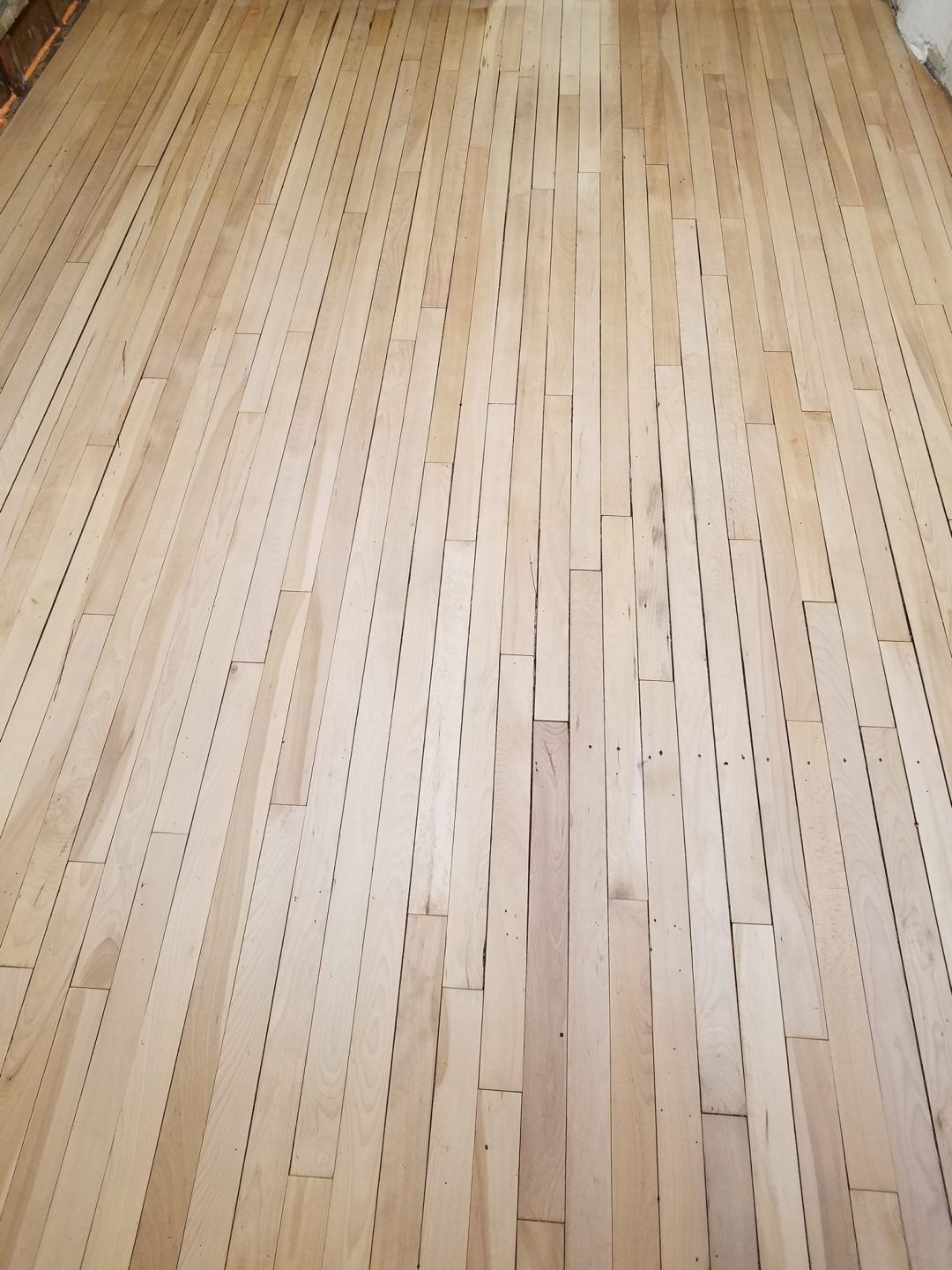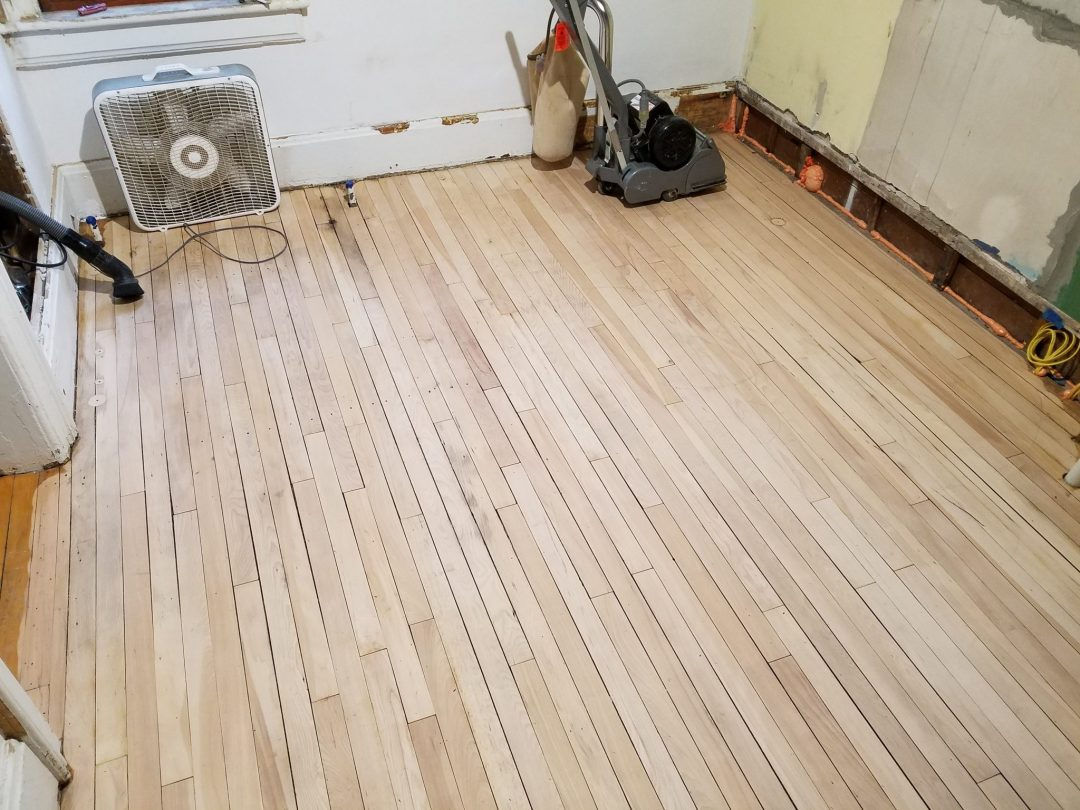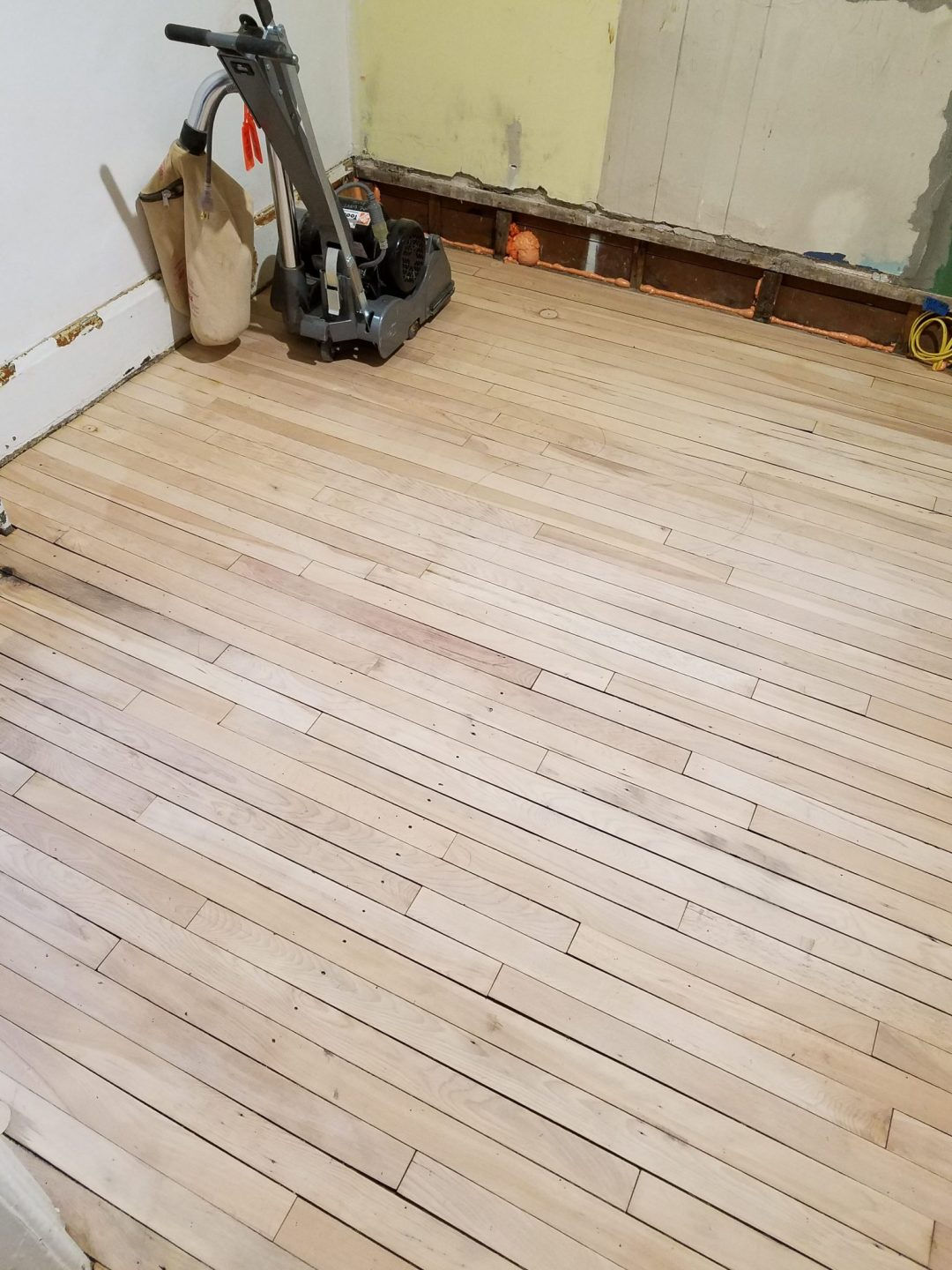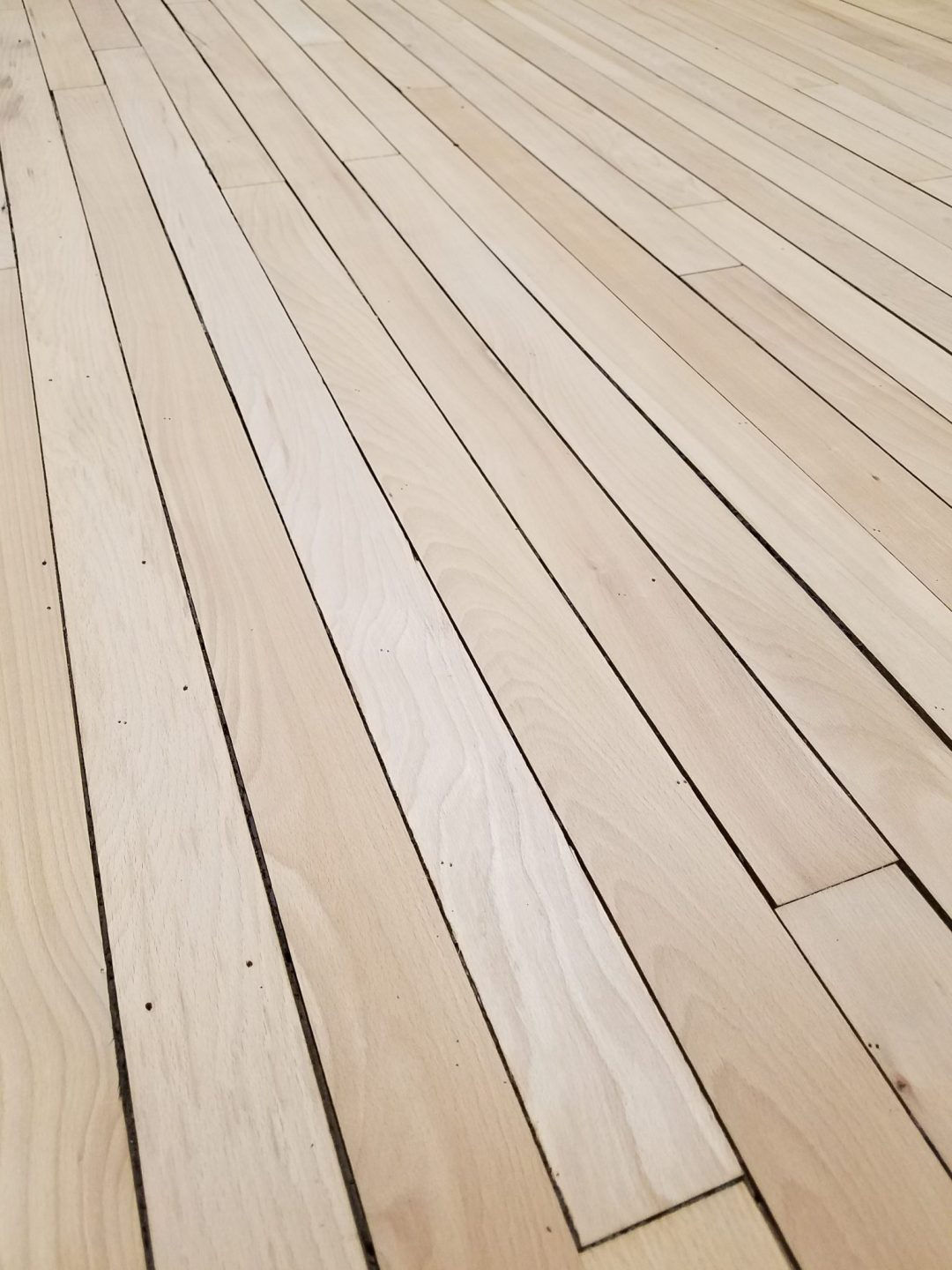 See! The horrible floors that couldn't be saved...are SAVED!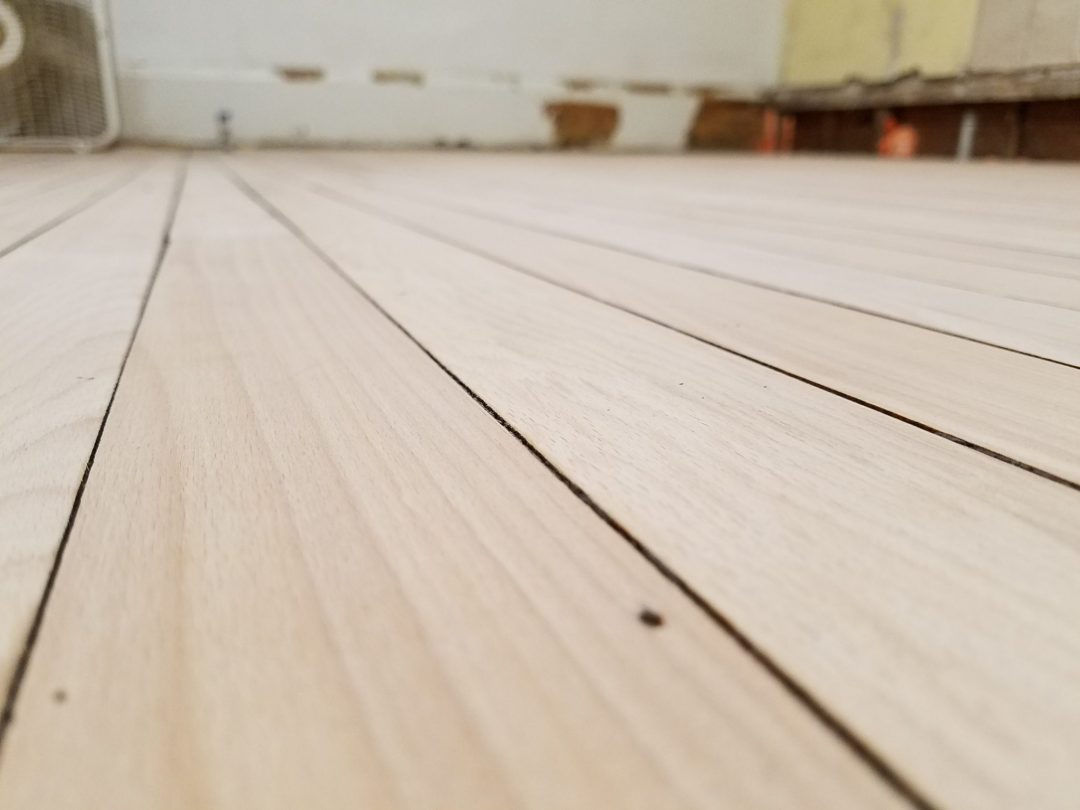 TIP: If you follow Pete's Hardwood Floor Tutorial to a " T ", your floors will come out beautiful!
For more details , go check out our Hardwood Floor Refinishing Technical Blog!
TIP: Now we cover the floor with Ram Board temporary floor protection, to protect it from work being finished up, until the trim is stained, and until the walls are painted. Be sure to TAPE (Ram Board) the joints between layers of Ram Board.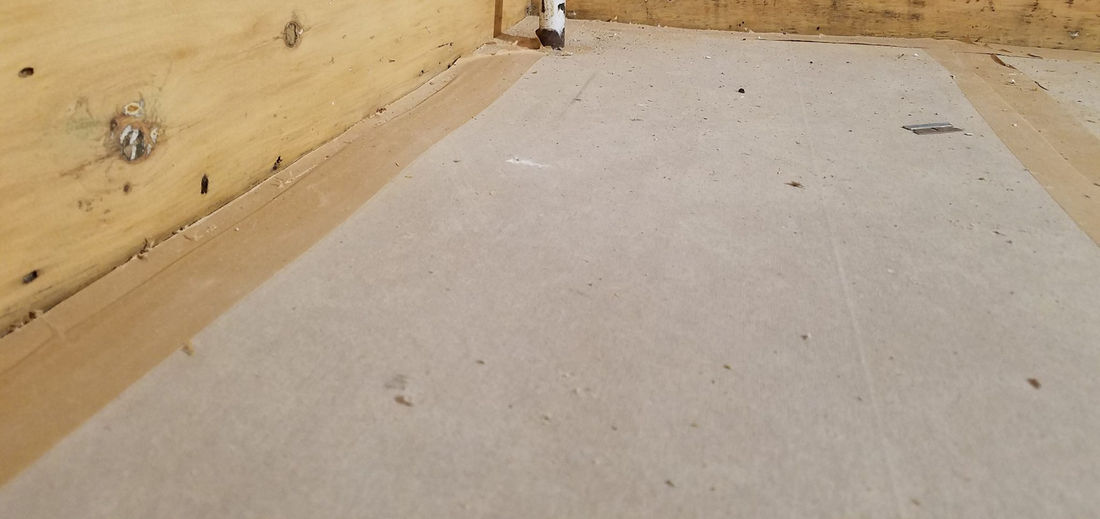 Ram Board Temporary Floor Covering
Vintage Kitchen – Floor Stain Samples
---
No one likes surprises, right… especially when it comes to floor stain colors. Now that the floor is sanded, and before the cabinets are installed, we have a prime opportunity to test stain colors:

We utilized the space under where the cabinets will sit.
We mocked up a couple different products, in various shades/colors.
Waterlox and Old Masters Wiping Stains.
We ended up selecting the Old Masters wiping stain – Early American…stay tuned next week!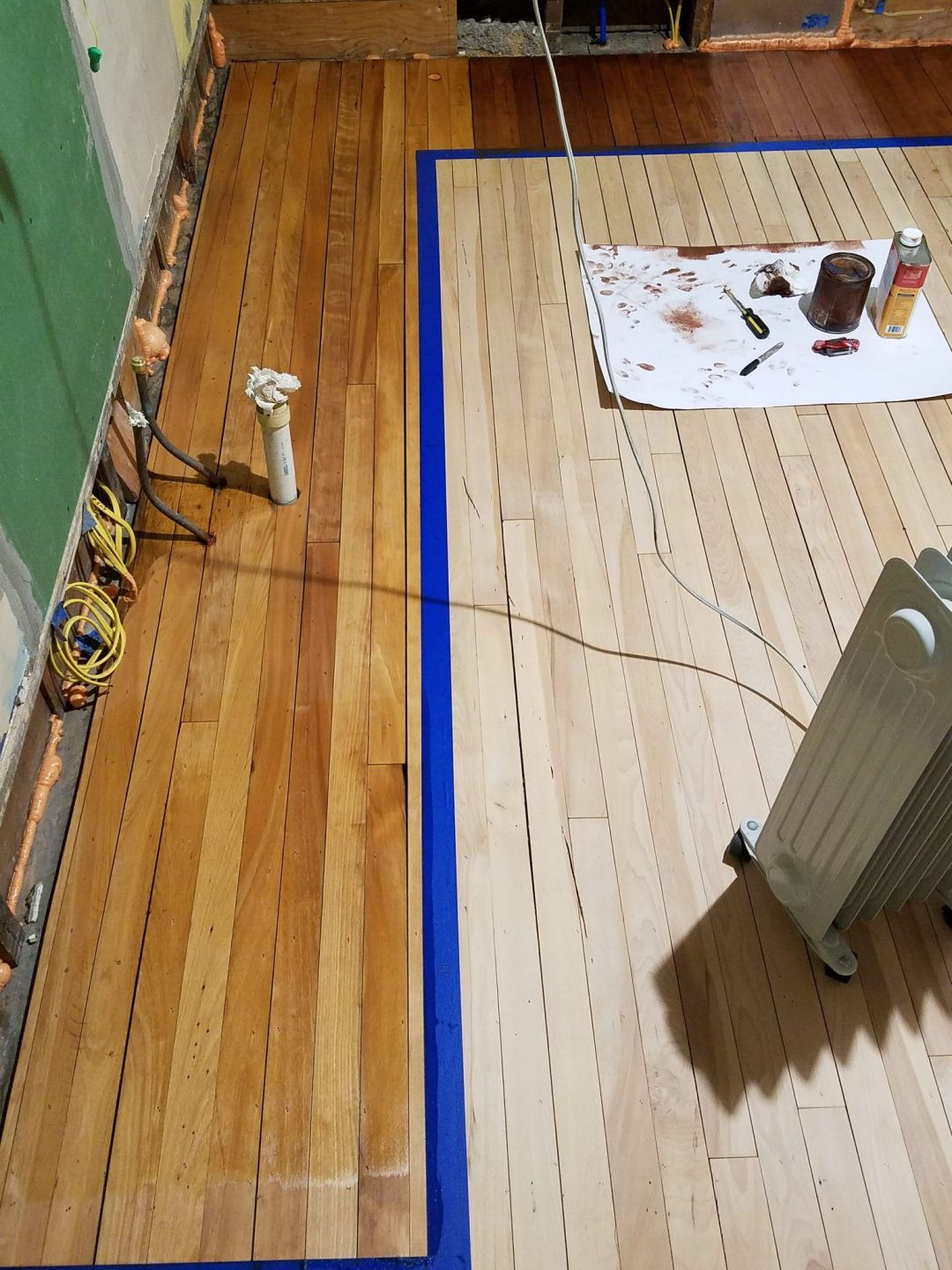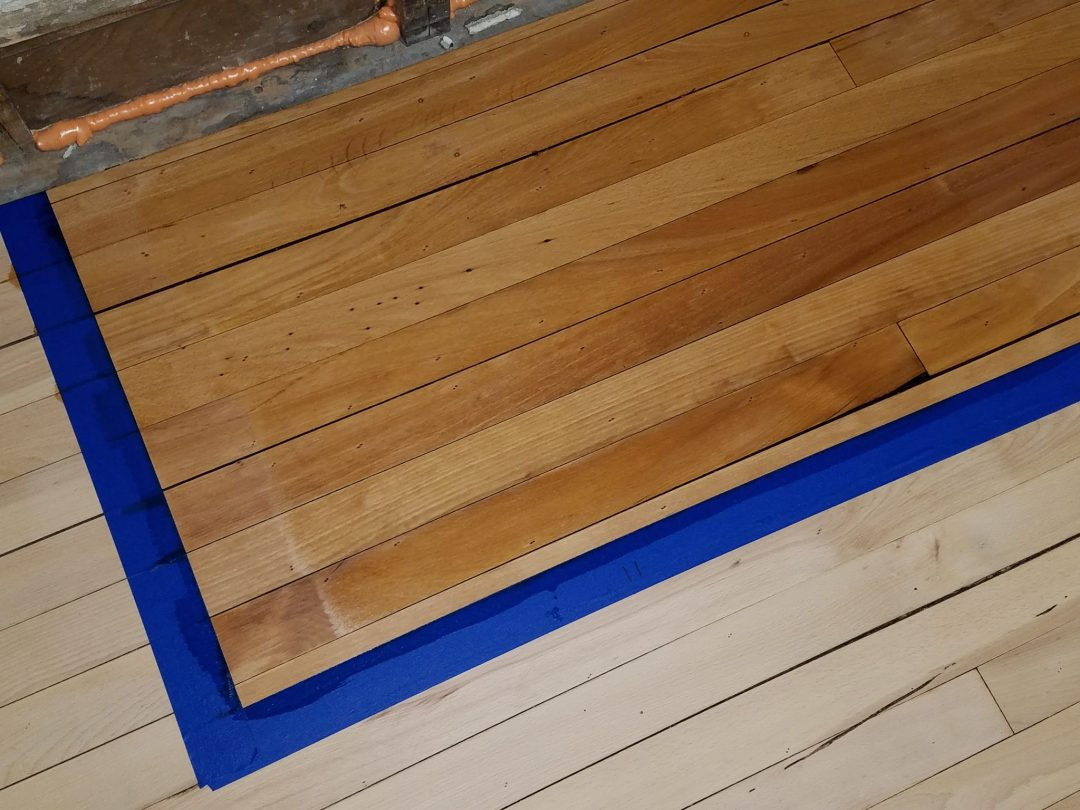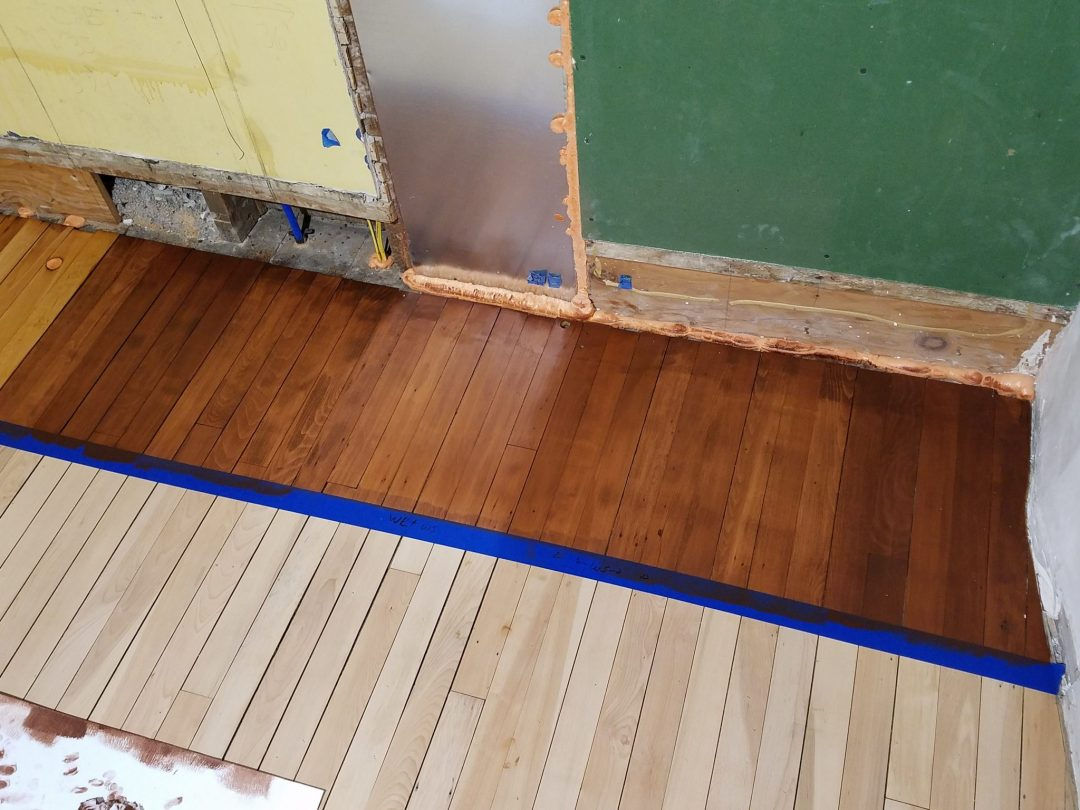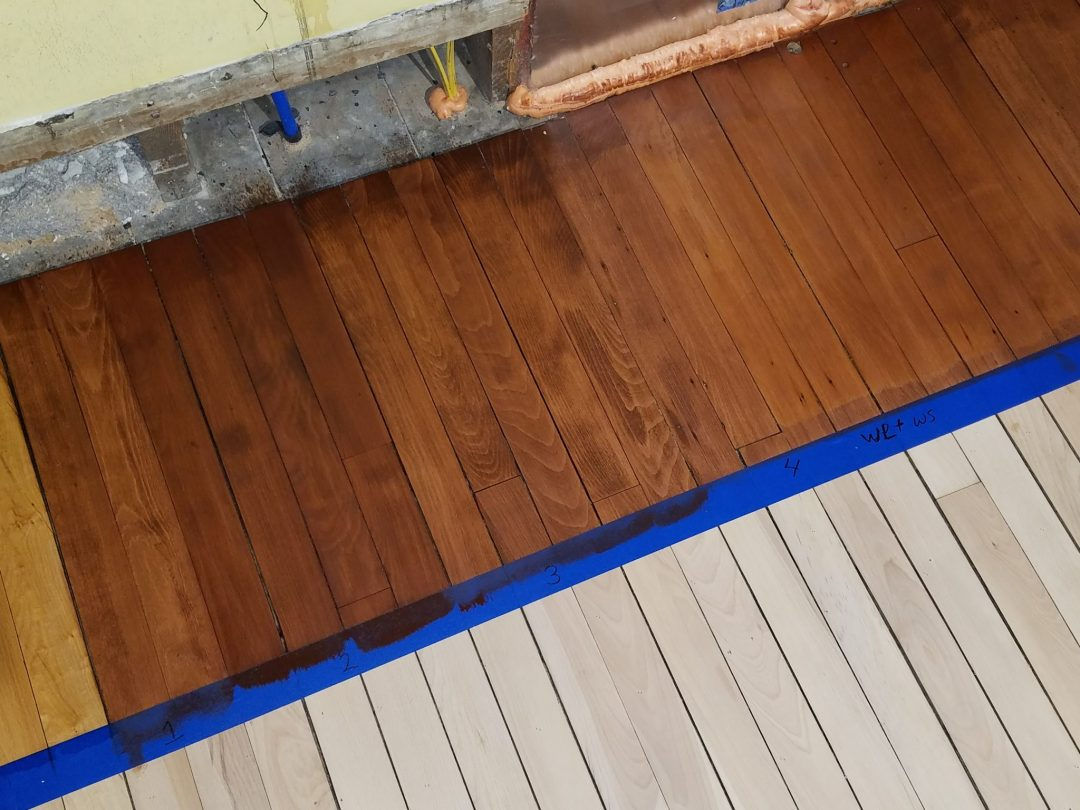 Farmhouse Kitchen – Trim Stripping/Sanding
---
So our original trim is looking pretty rough after 128 years and 15-20+ coats of paint! What to do…what to do? Rip it out and replace it??? Heck no! We are going to strip and refinish it. I'll admit it, the only job tougher than the floors was stripping this trim!!! I estimate at least 300 hours of my labor was required to strip, sand, and stain. For this reason, I fear that it may not be feasible to hire out, but its original beauty cannot be replicated. You can't buy trim like this anymore!


The State of the Trim and Millwork
What we are working with: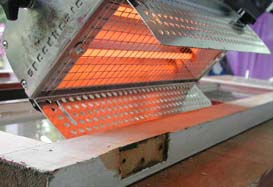 The Eco-Strip Speedheater™ Standard 1100
Speedheater™ – It is a stripping tool that uses two infrared bulbs to heat paint and other substrates to a safe working temperature for removal (scraping), without creating toxic dust, vaporizing lead paint, or causing a fire like a heat gun may. For more info on the Speedheater™, its functions, and uses, go check out the MOHF Cool "Fix" Tools page.

"Milk paint" – This is on the original base layers, hard as a brick, and paint strippers will hardly touch this stuff.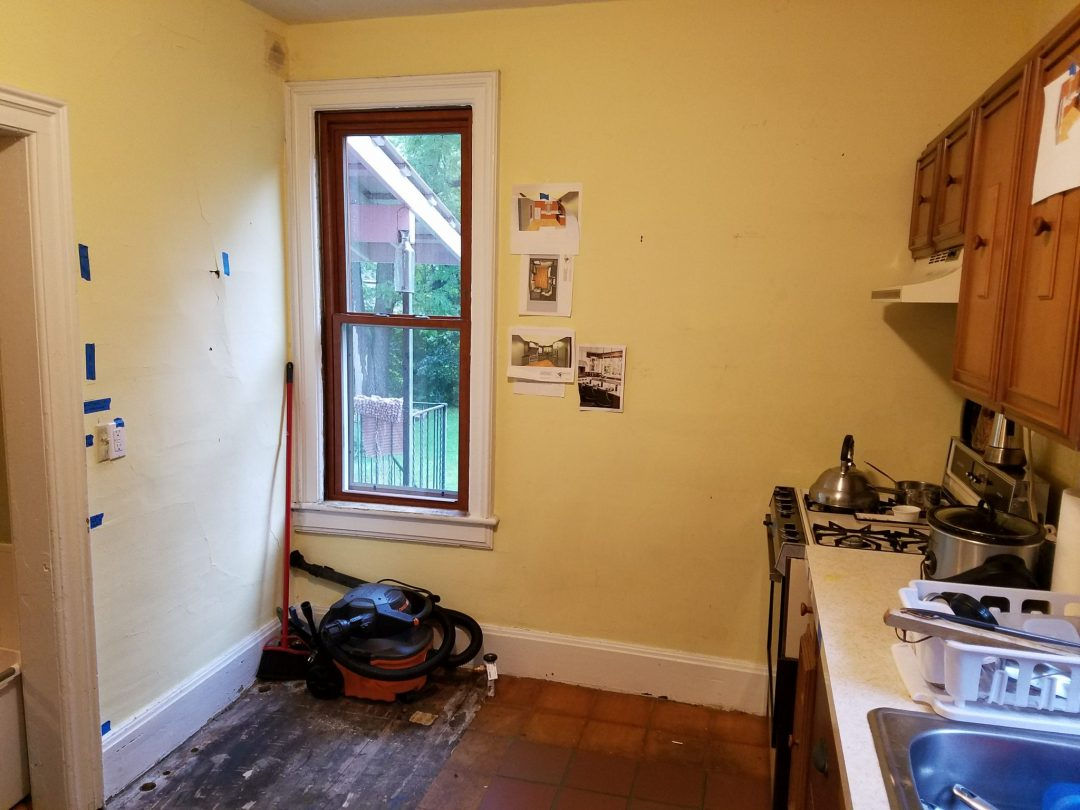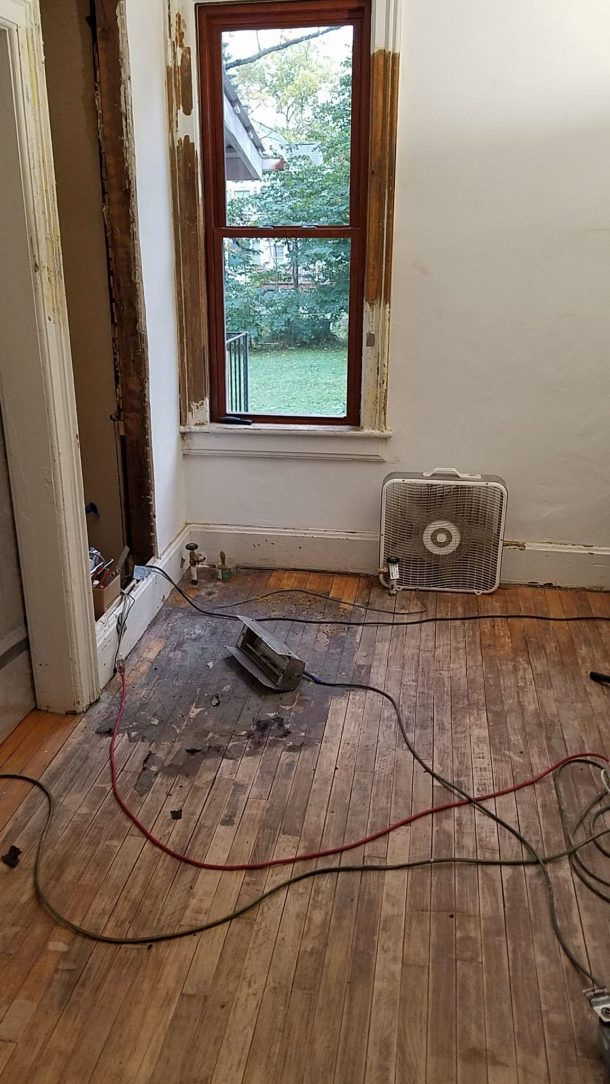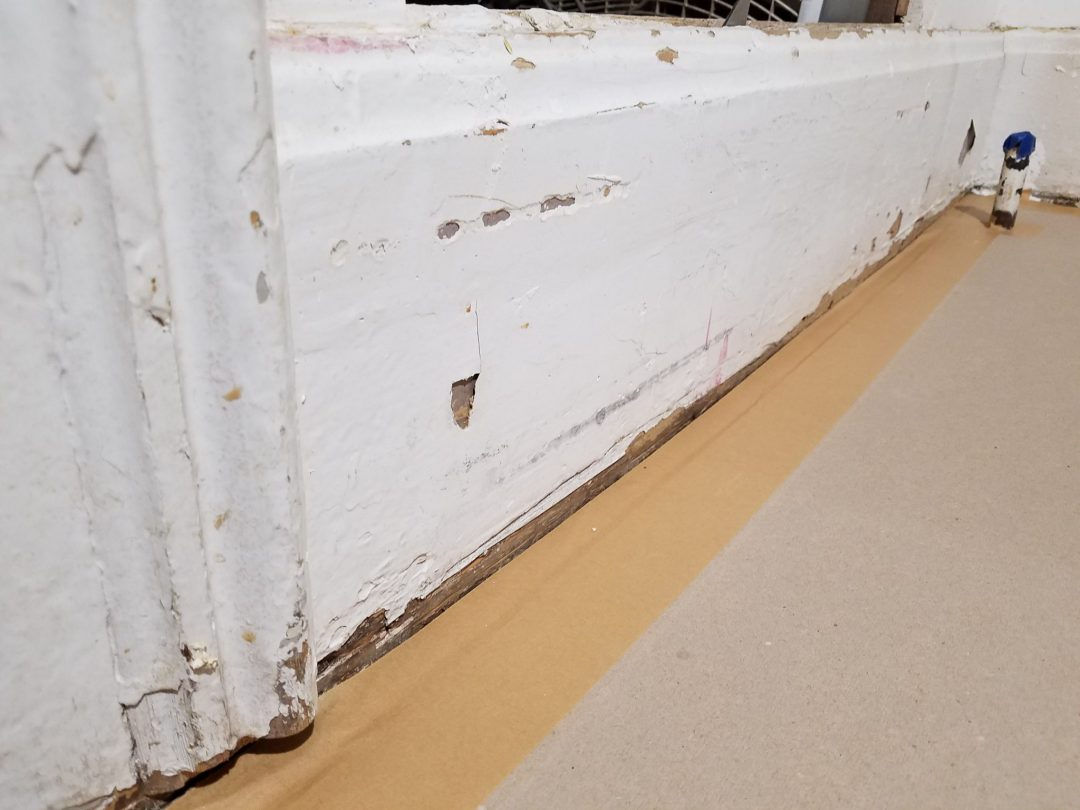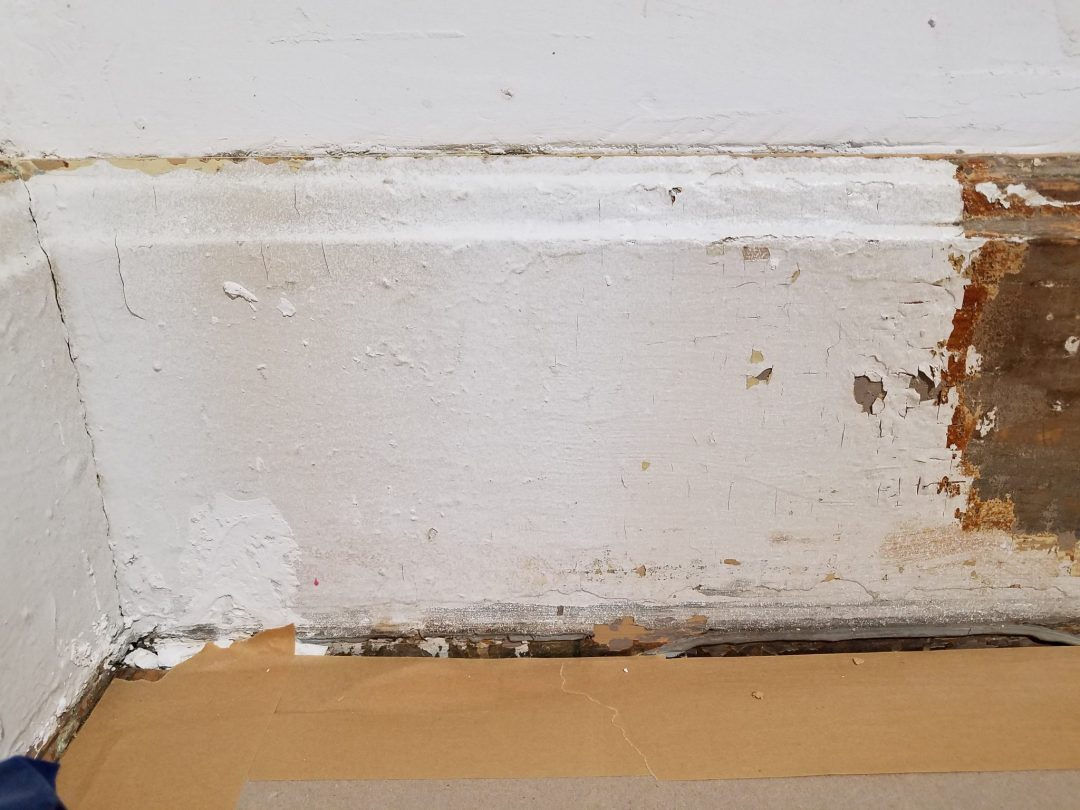 Stripping the Trim and Millwork
We will be stripping the paint primarily with the Speedheater™, for the bulk of the work. It doesn't scorch the wood, create lead dust, or lead vaporization during removal.

Any additional cleanup, or difficult spots will be accomplished with Soy-Gel, a soybean based stripper, that is less toxic than other strippers, and doesn't have a heavy odor.
Using various profile scrapers (see Cool "Fix" Tool page), we will strip the paint with the Speedheater™. Due to the trim's contours, it may take 1-3 passes to get down to clean wood again.
As described above, use Soy-Gel as needed. This can help to get paint out of cracks and crevices – with a brass brush/dental tools.
I also like to dry scrape the last little bit of glaze with a sharp carbide scraper, to get down to super clean wood. This will reduce sanding time.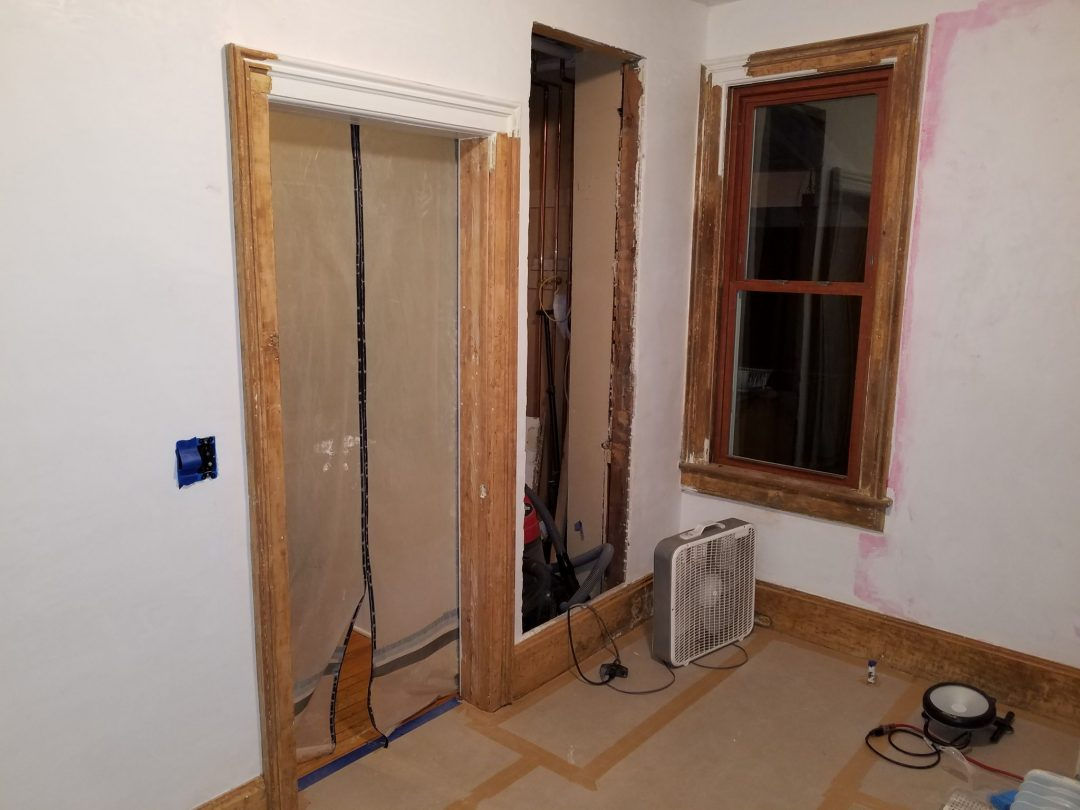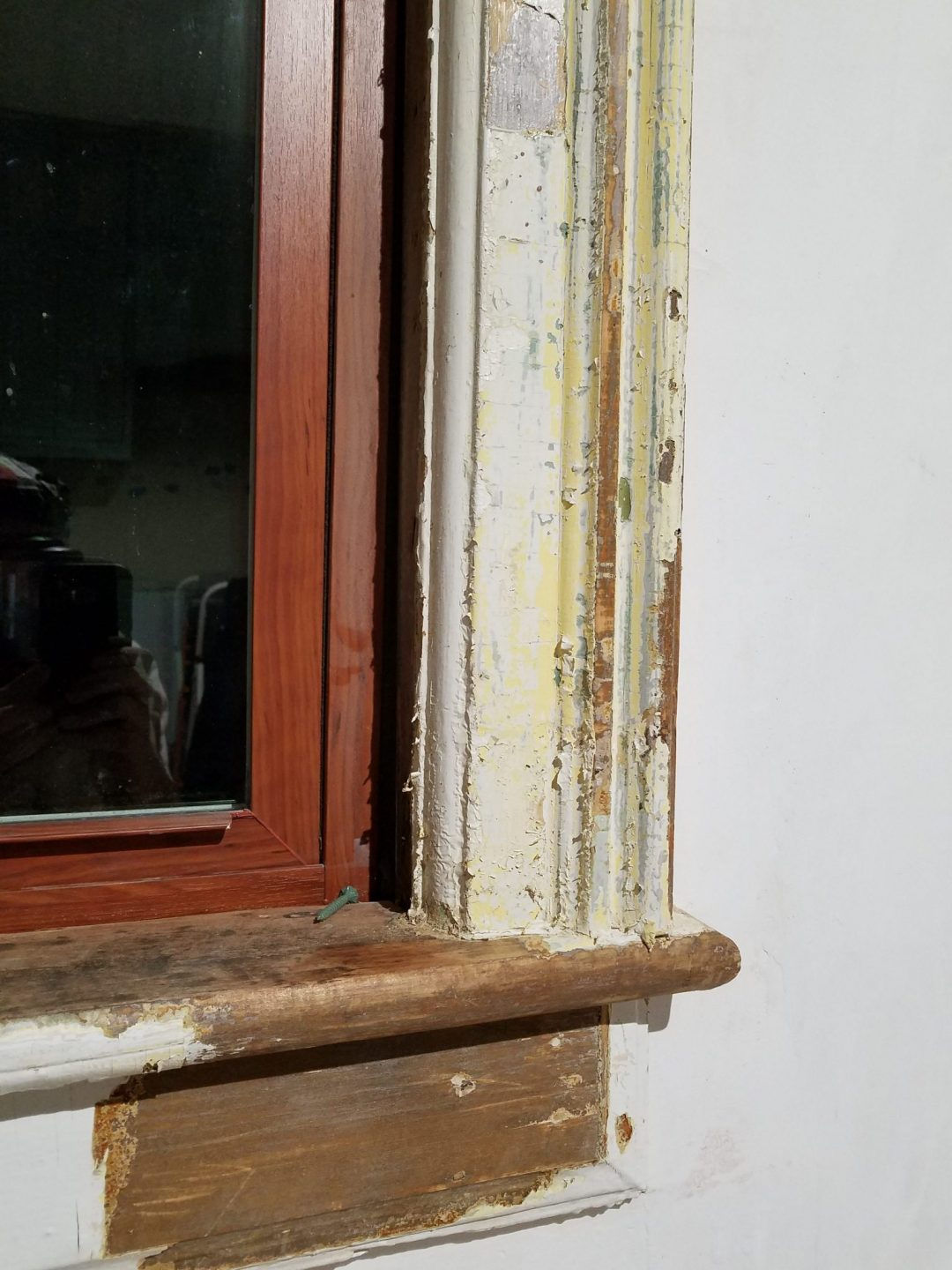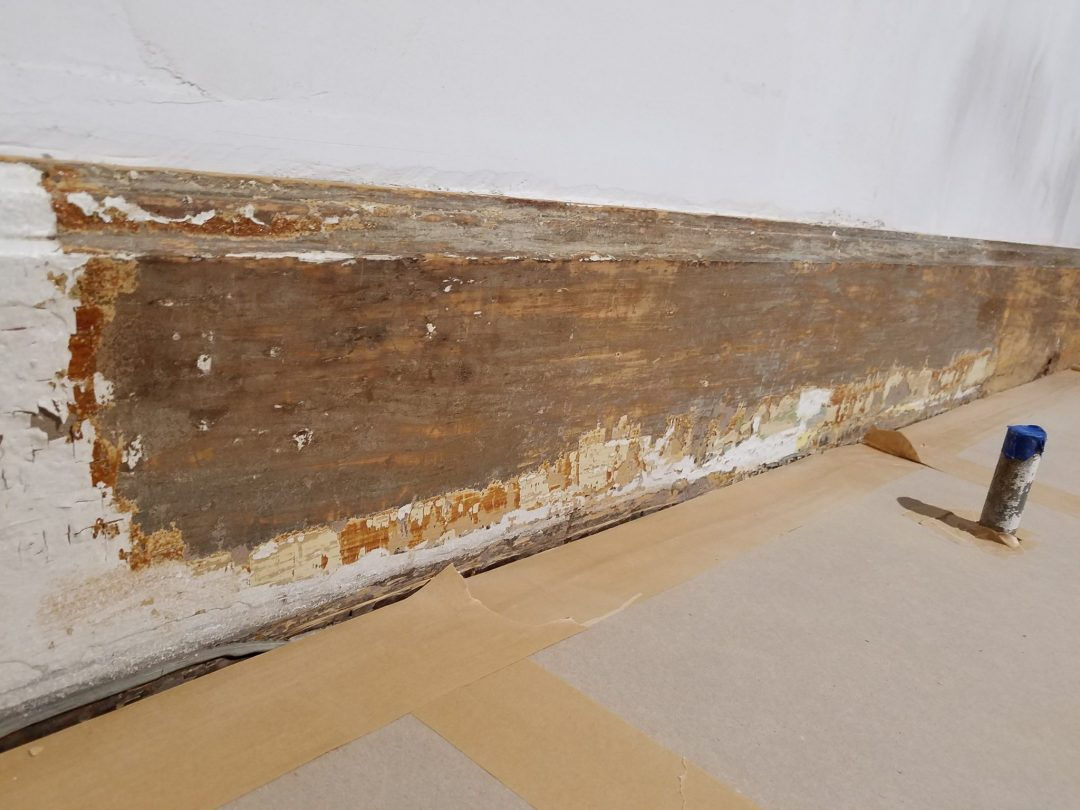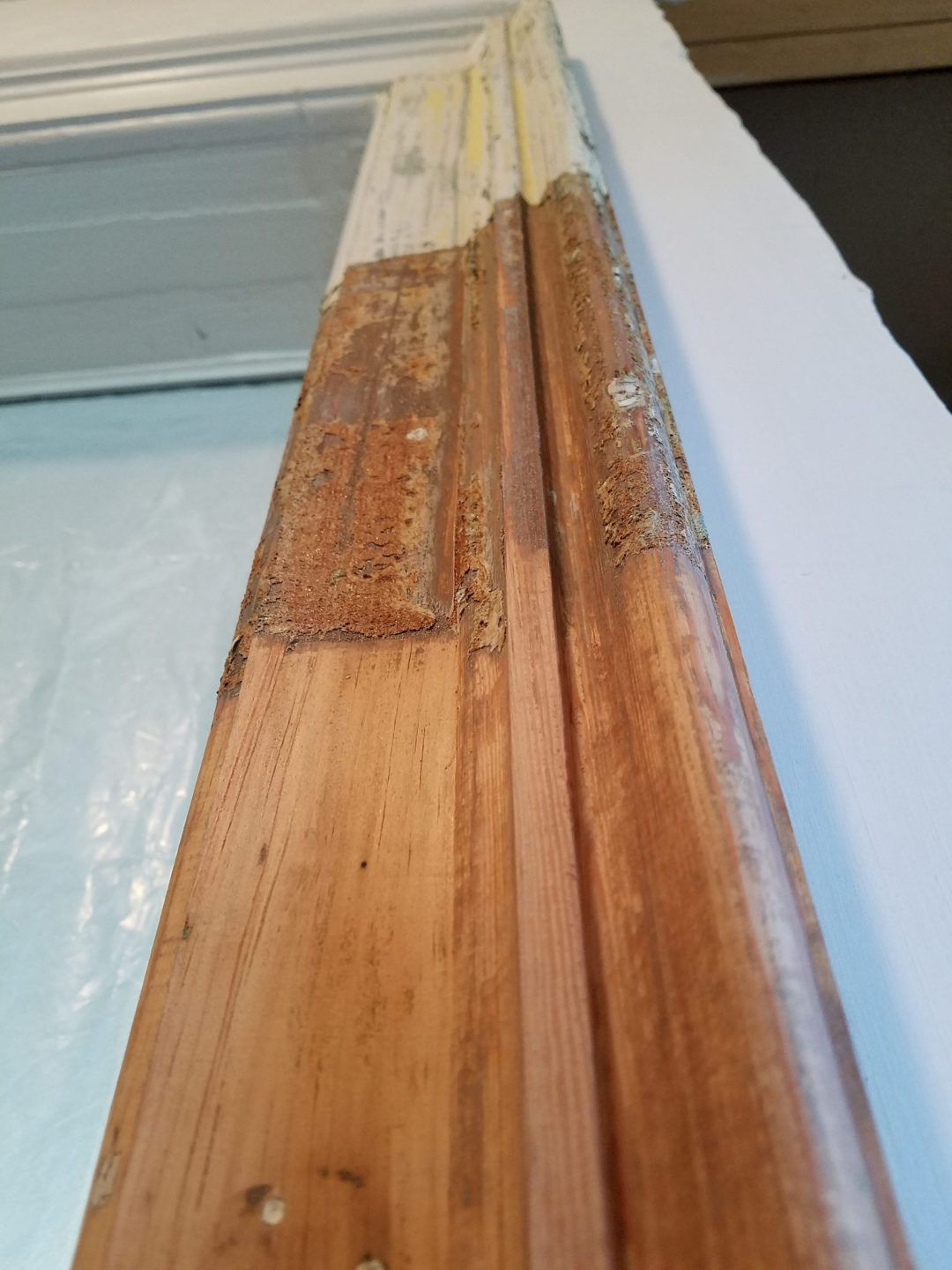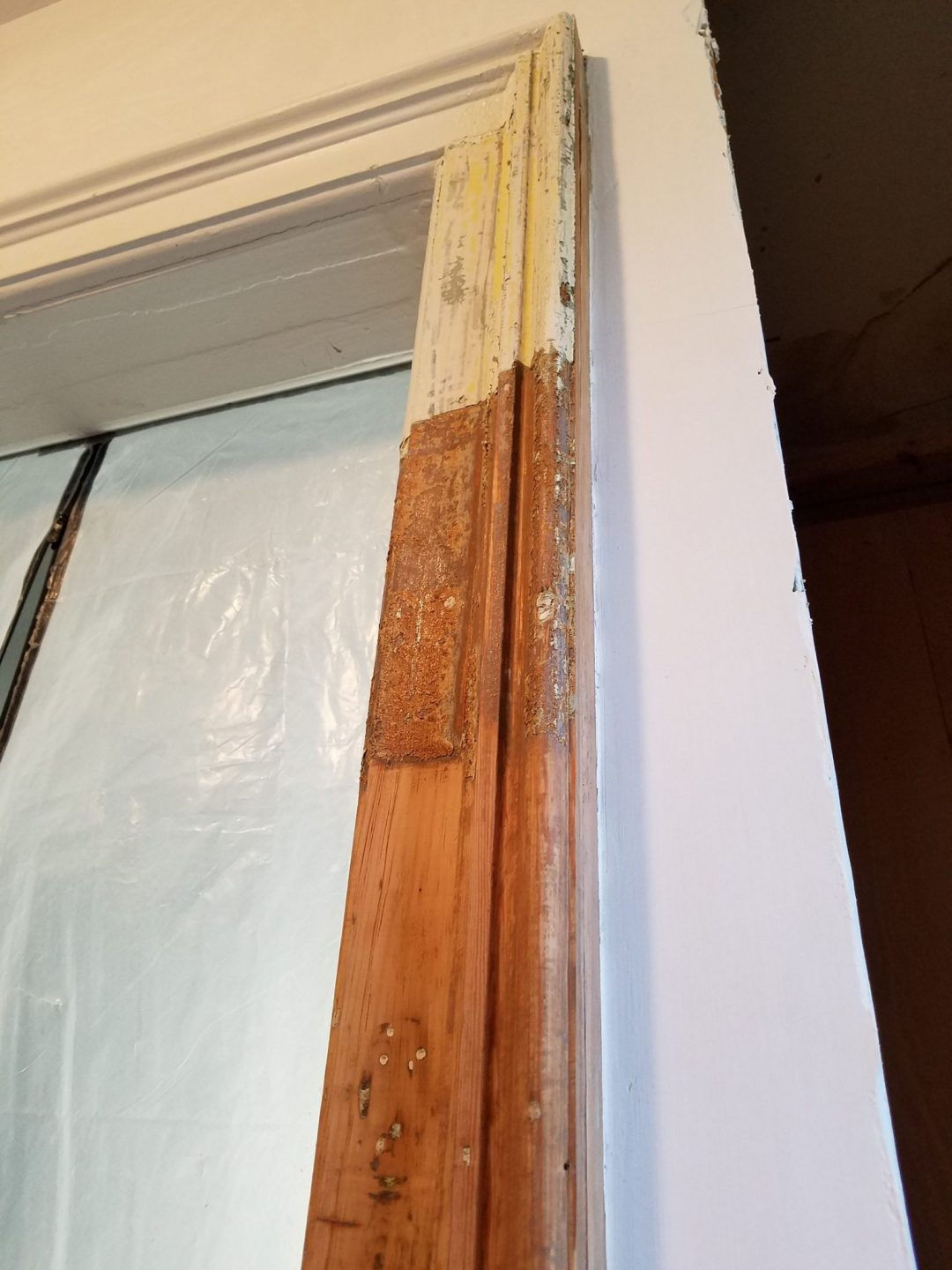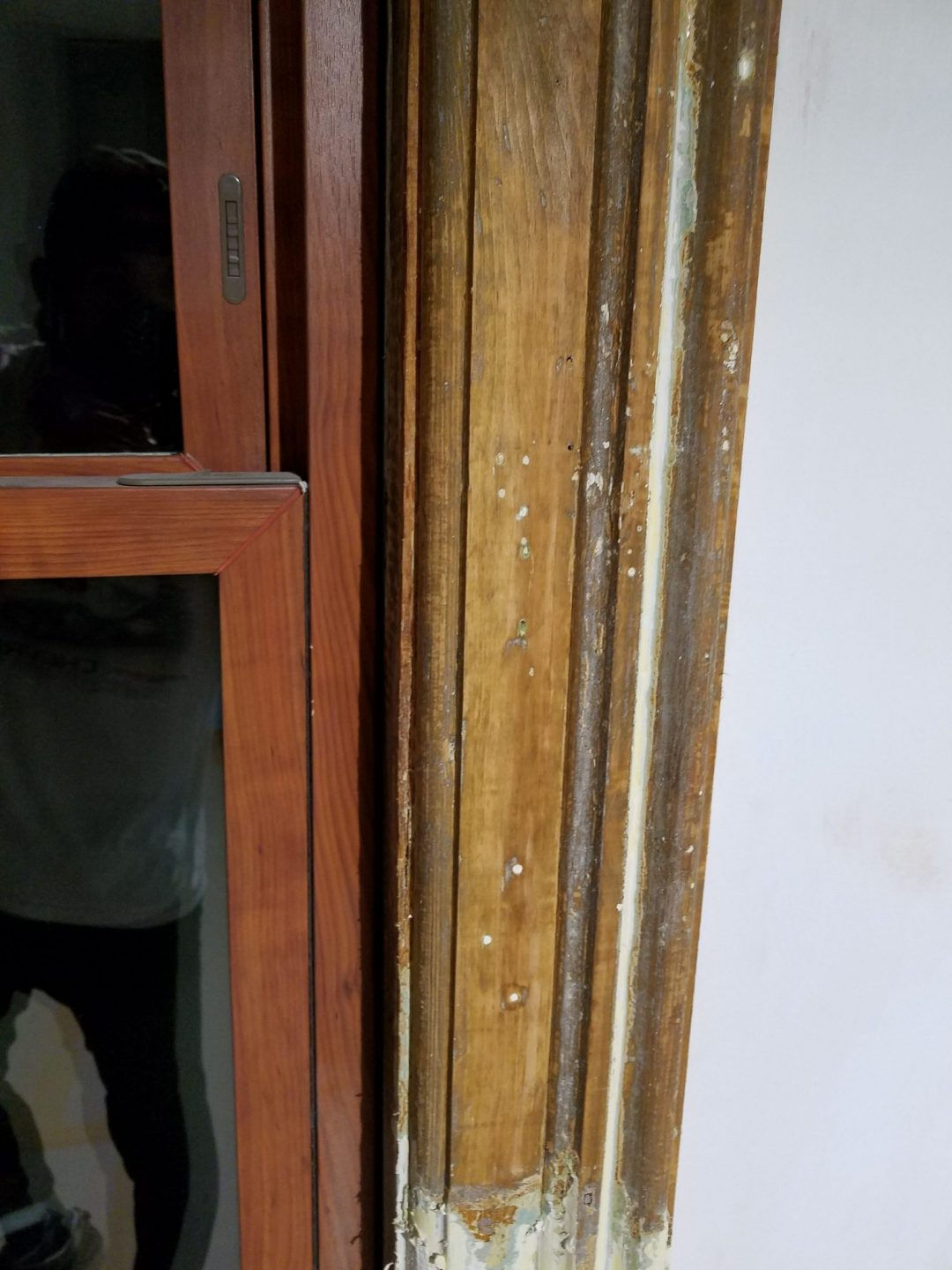 Next, sand the trim in these two steps:
60-80 grit

100-120 grit (120 if softer wood like pine and basswood)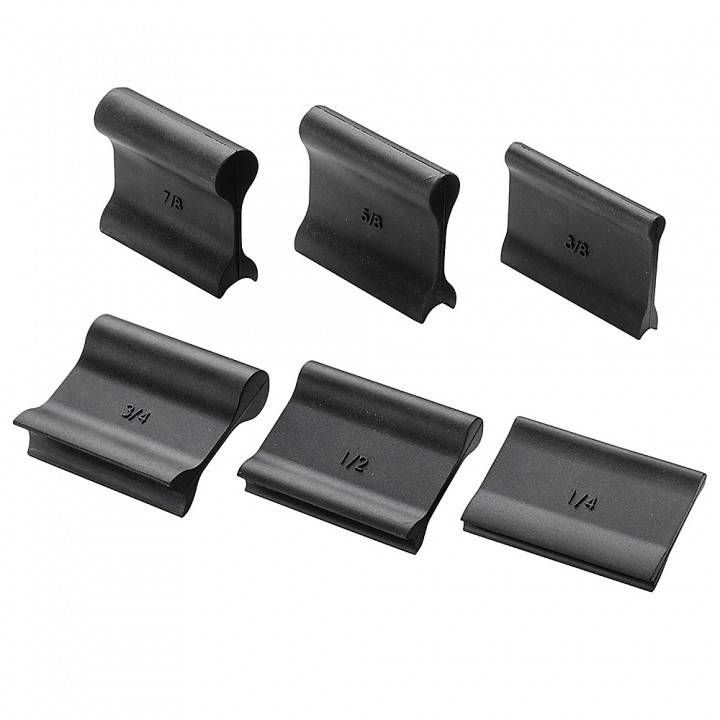 Profile Sanders

TIP: Use rubber Profile Sanders, like these from Rockler, to cut down on your sanding time, especially with the multiple contours/profiles we worked with here. Fore more info on the Rockler Profile Sanders, CLICK HERE.
Now we pause, so the plaster walls can be repaired.
Rationale – We want to make sure all the trim paint is removed before the walls are re-skimmed, so we get nice clean edges where the trim meets the plaster.
After plaster repairs, we will stain the trim.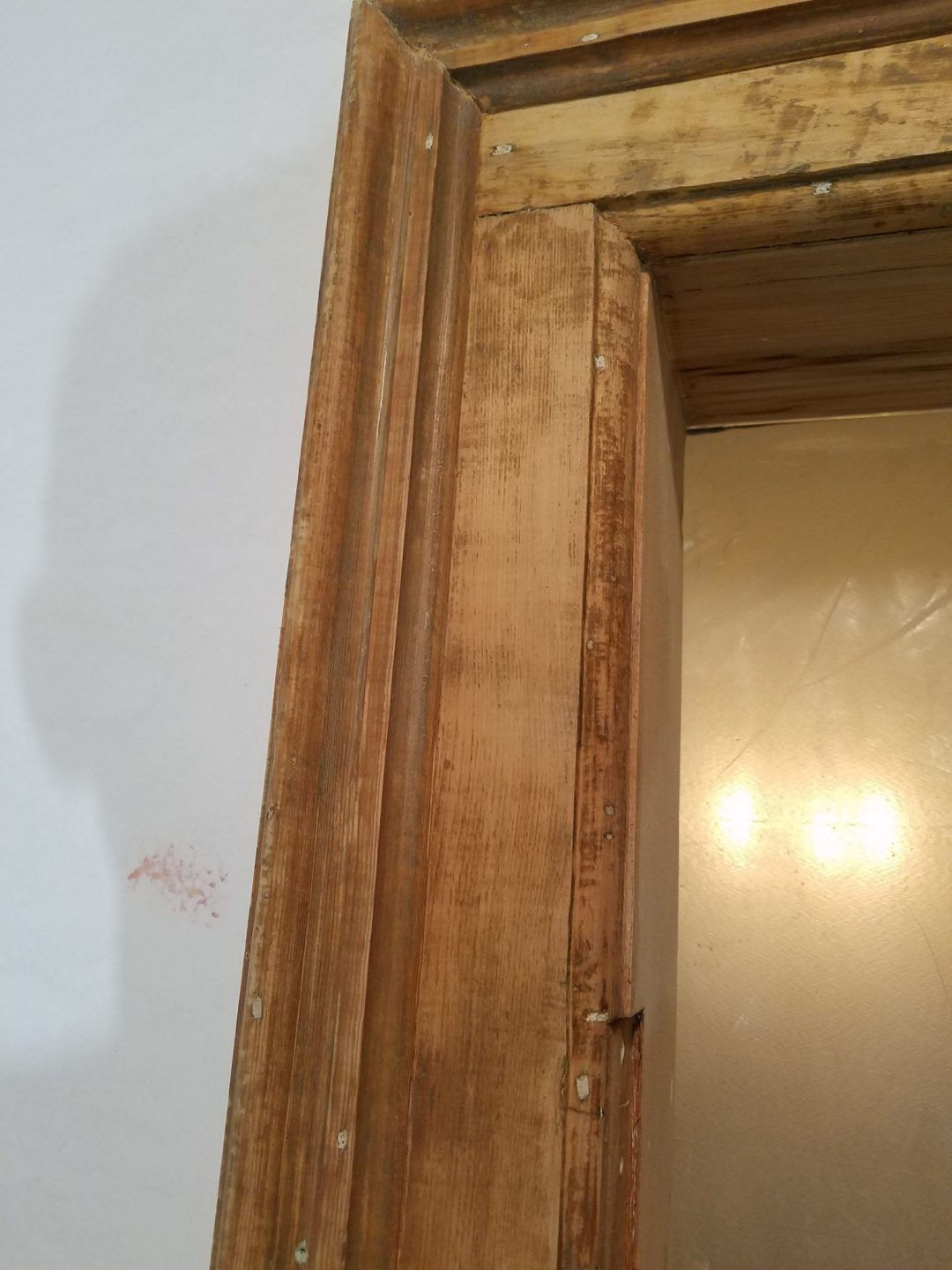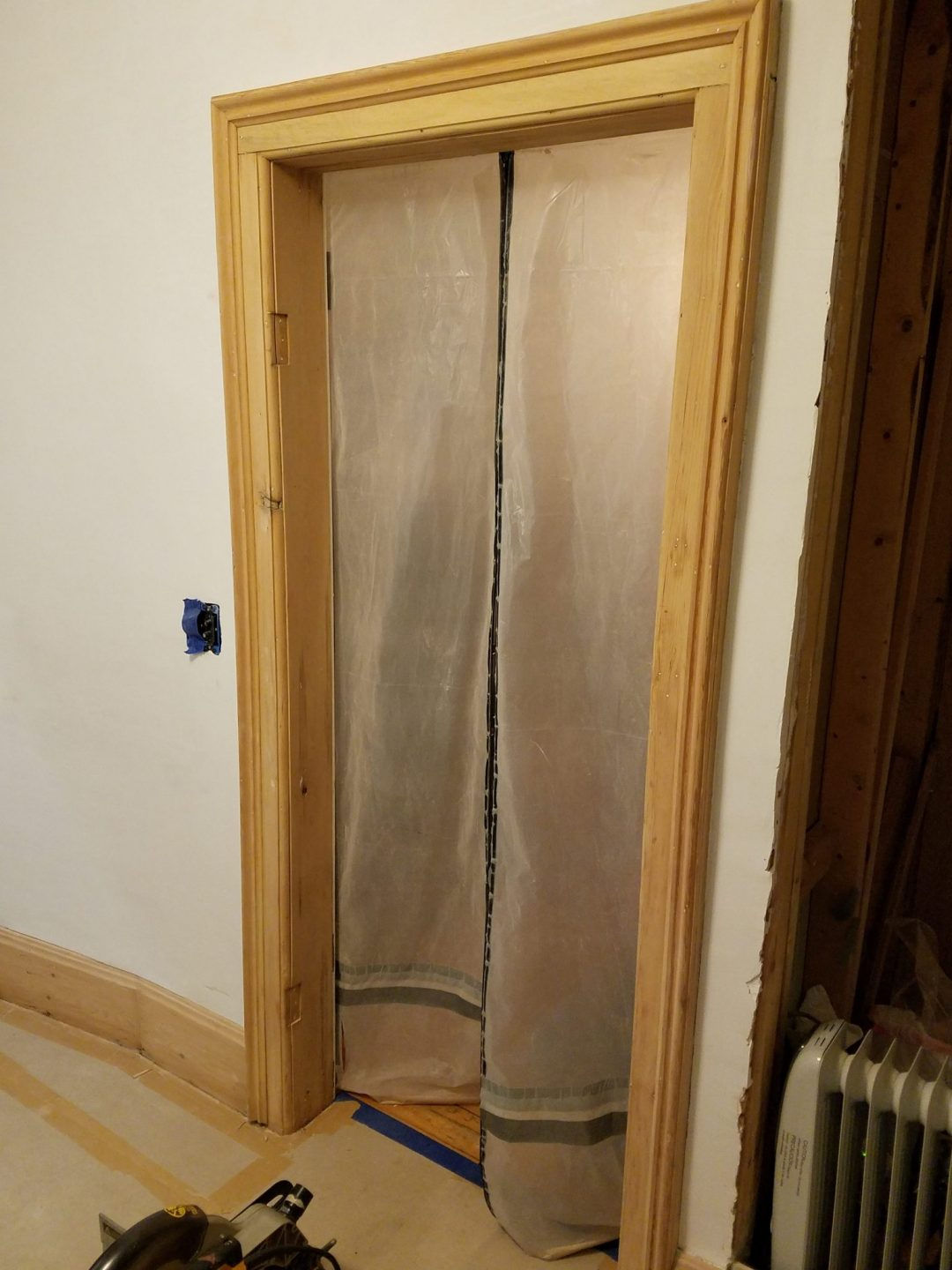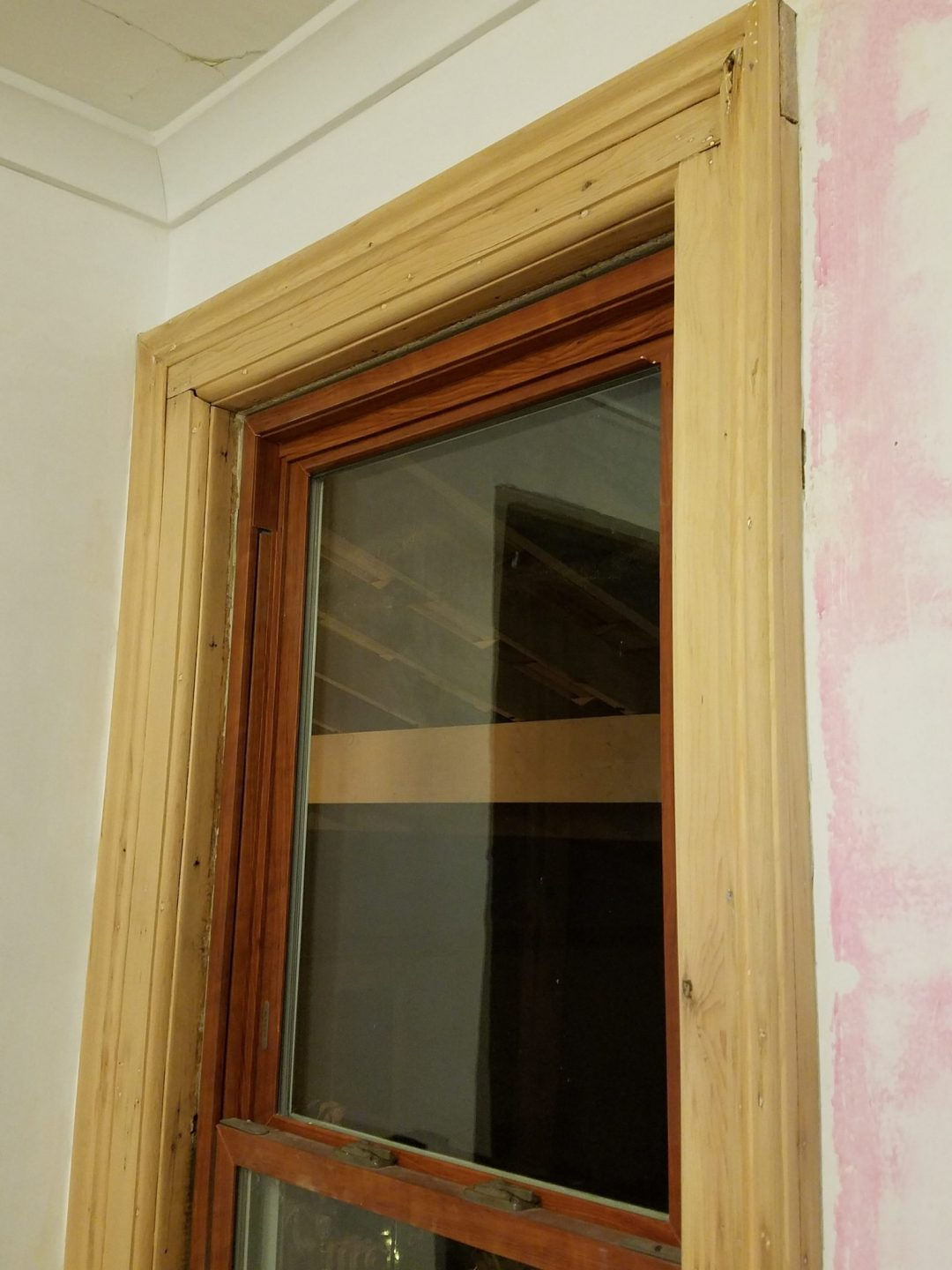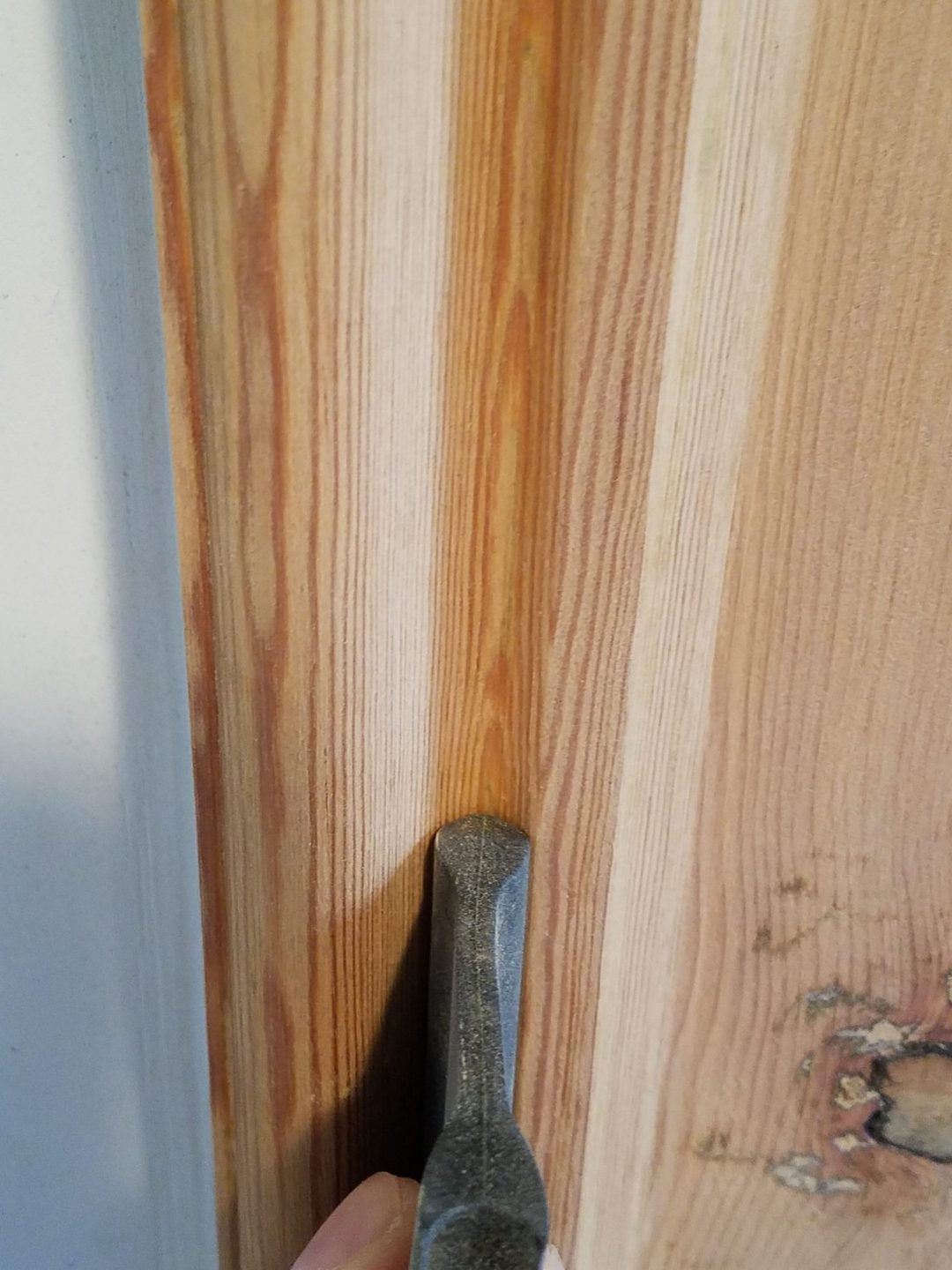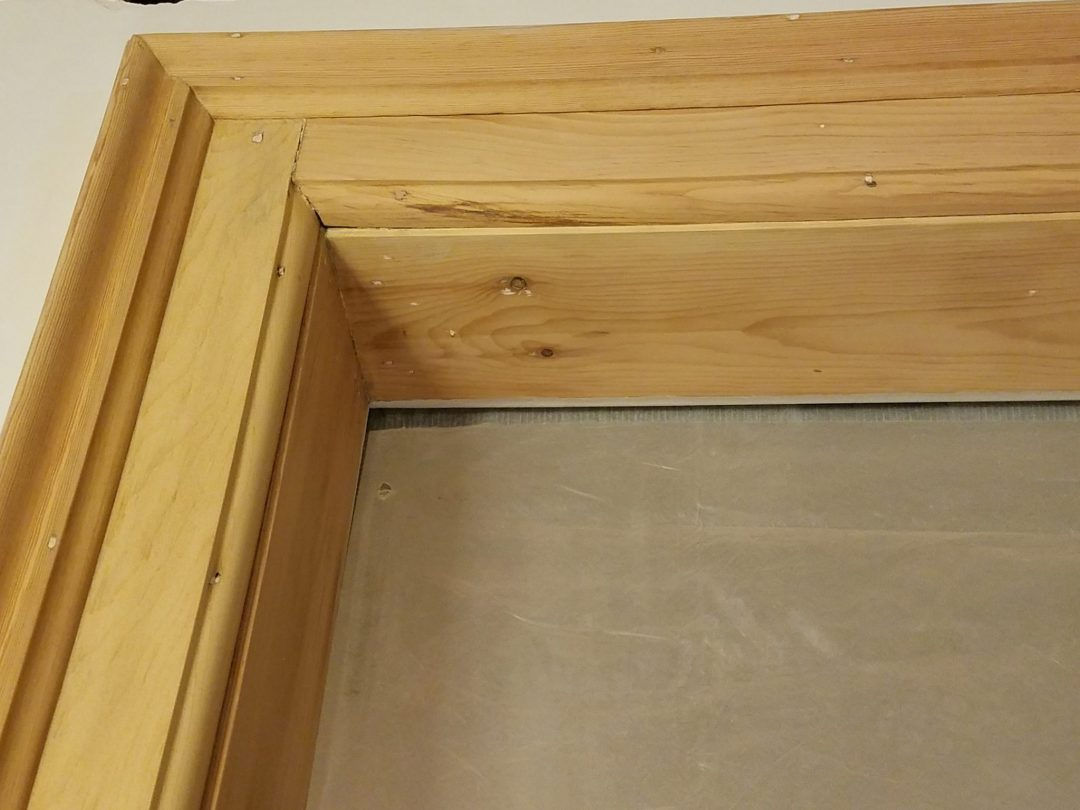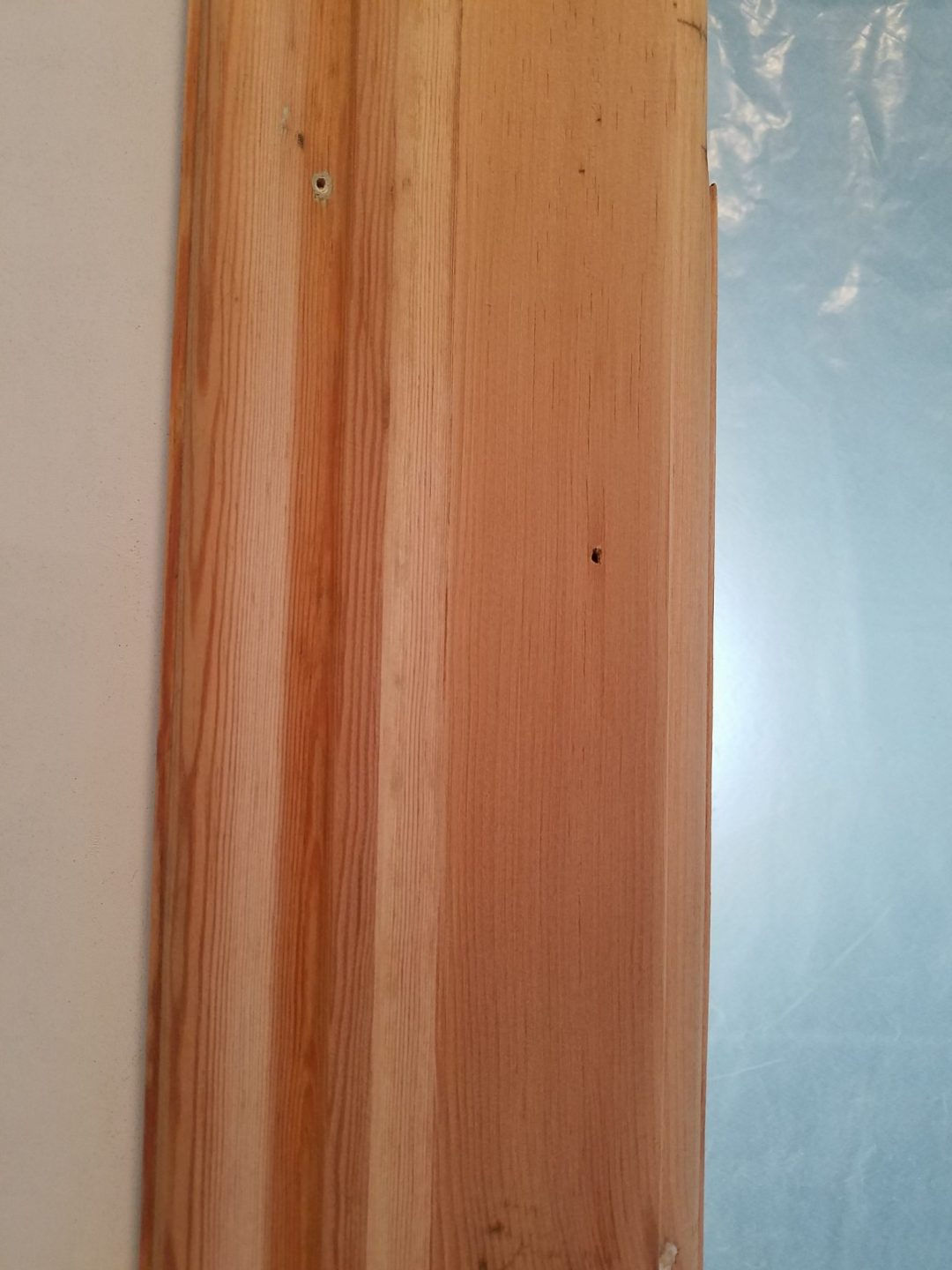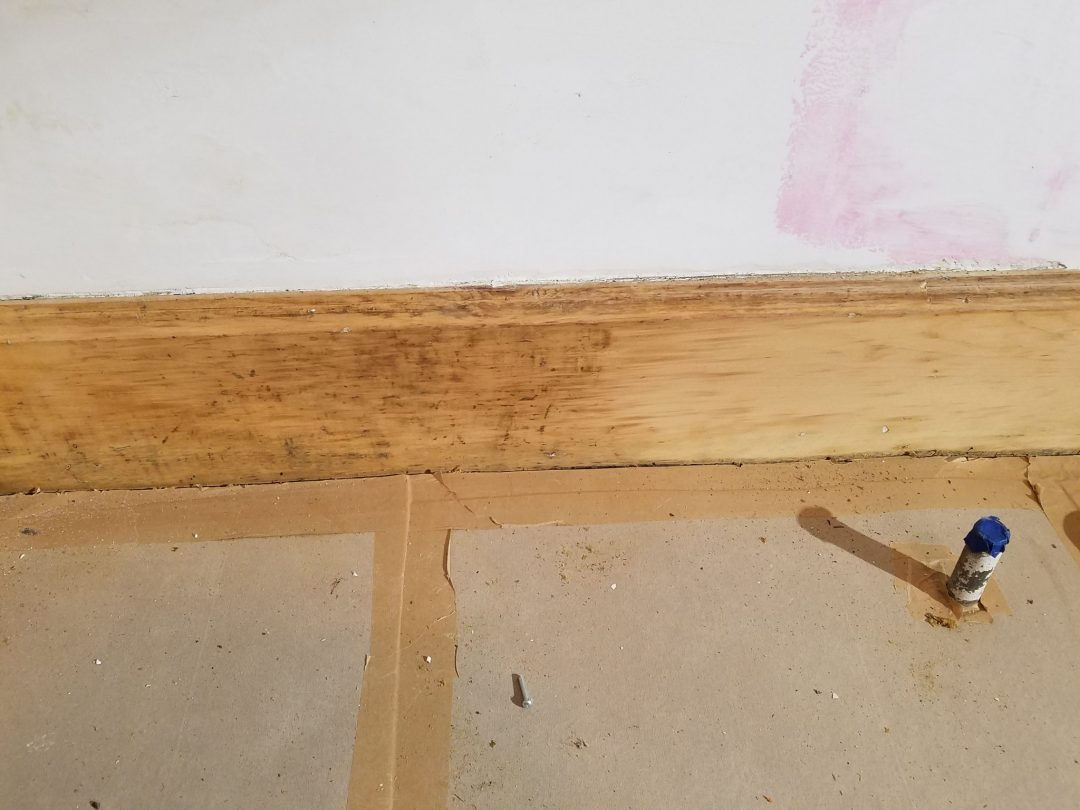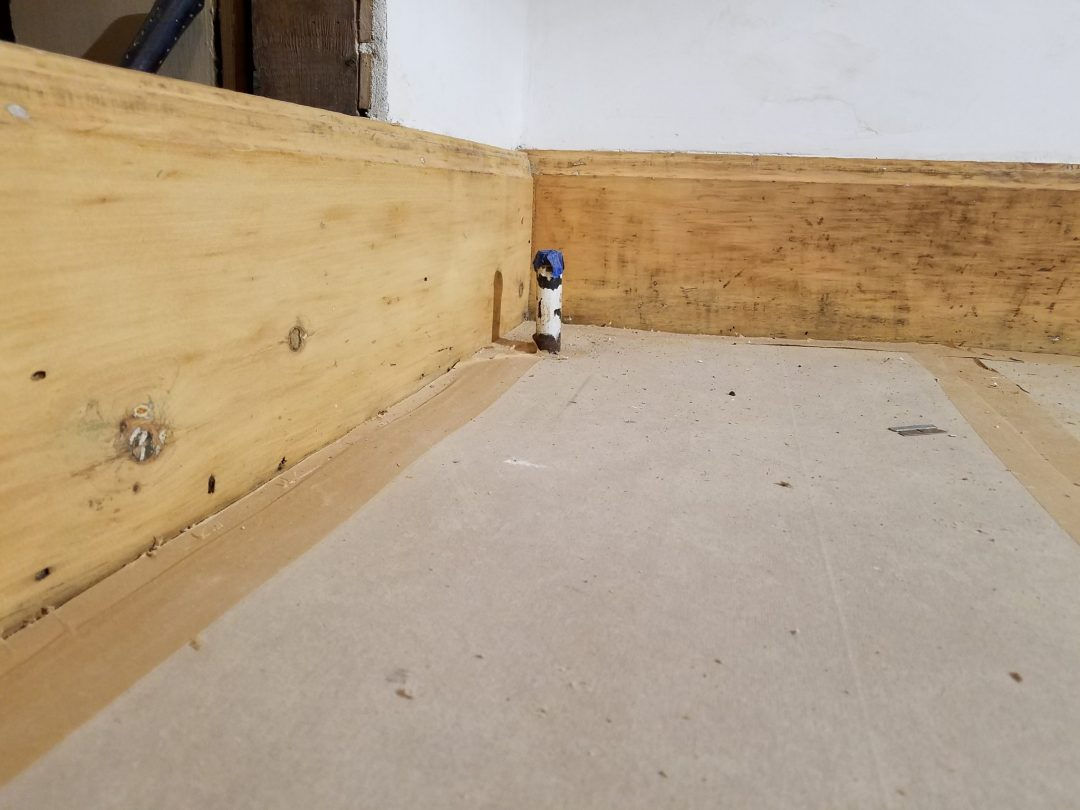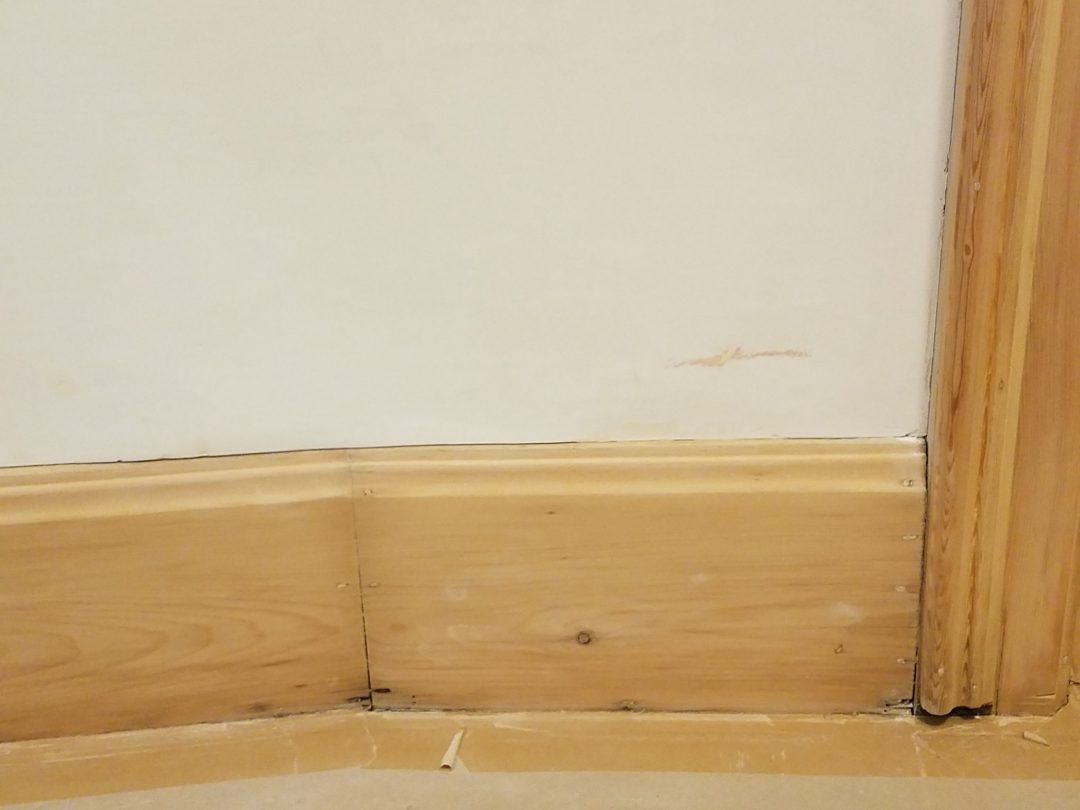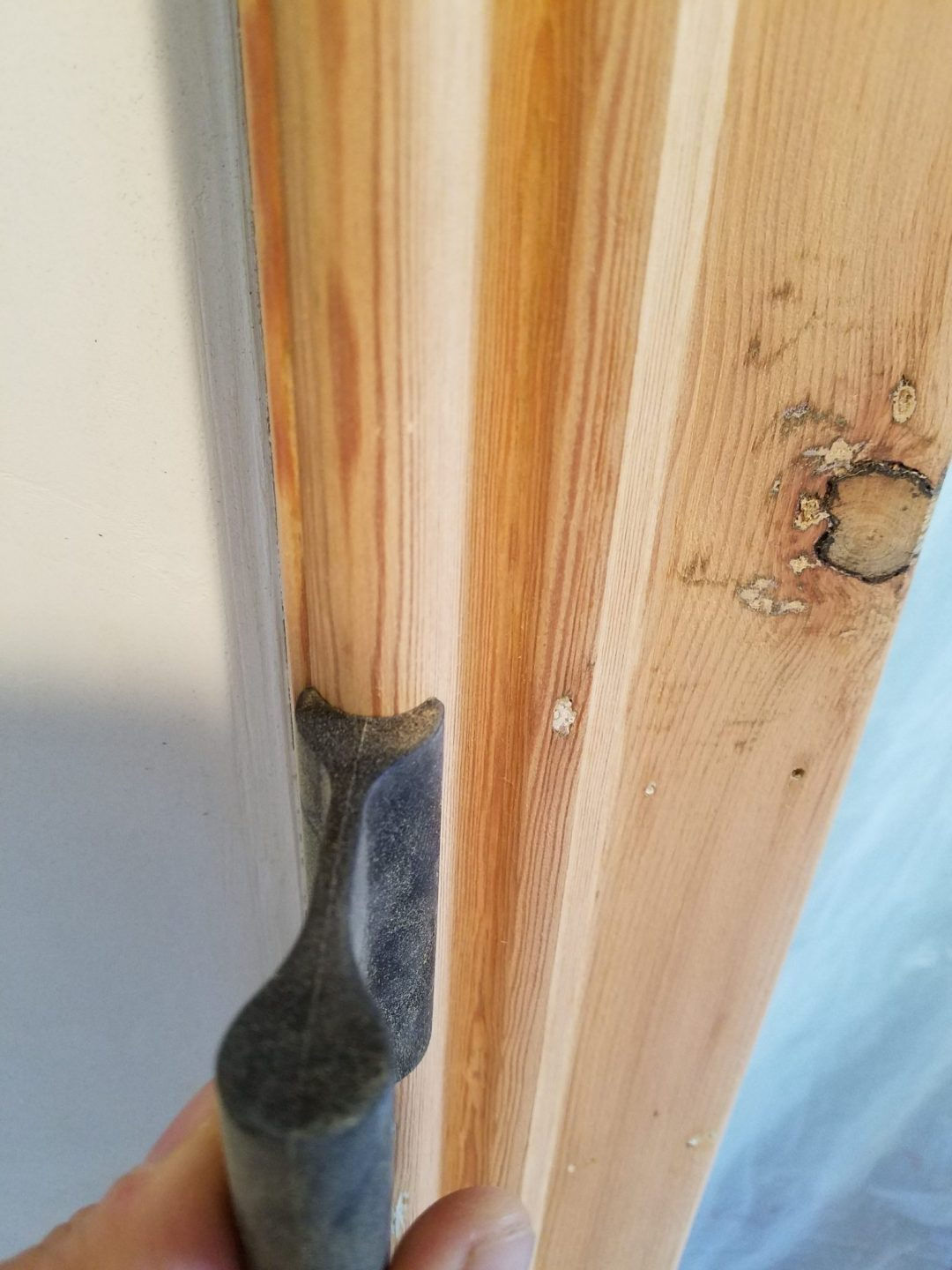 Vintage Kitchen – Plaster Wall Repair and Restoration
---
Our old plaster walls were in pretty rough shape, so I assumed repair/restoration was out of the question, until consulting a local plaster pro – Milliken Plastering, LLC. Not only were we able to save the original plaster walls, it was a lot less money than ripping them out, and going back with drywall.
Existing plaster was cracked and loose.

Removed completely failed /loose portions.

Re-anchored other loose areas that had not completely failed – here is a link to the Plaster Repair Process from our friends over at This Old House.

Taped/reinforced the cracks, and re-skimmed the walls with plaster.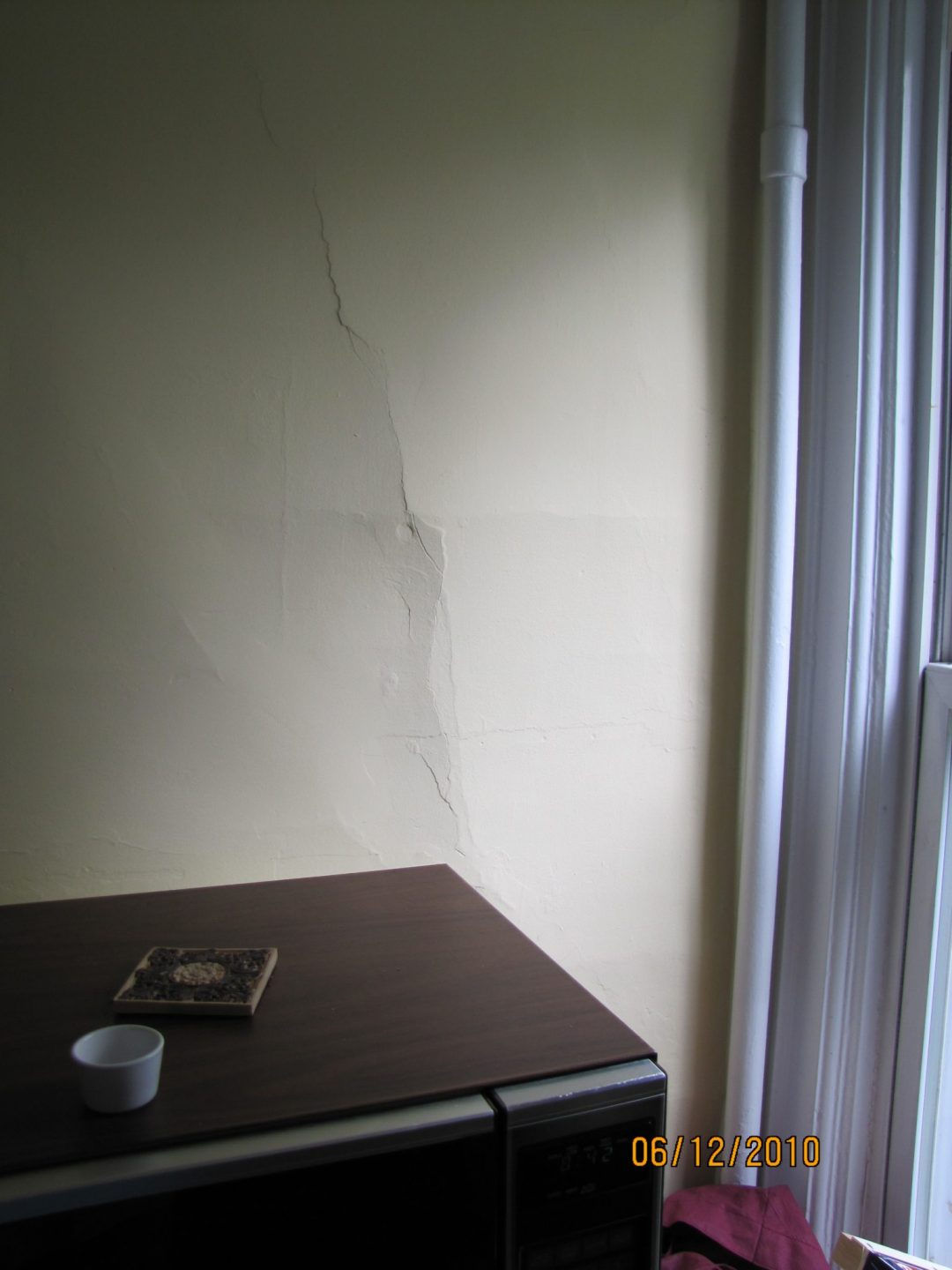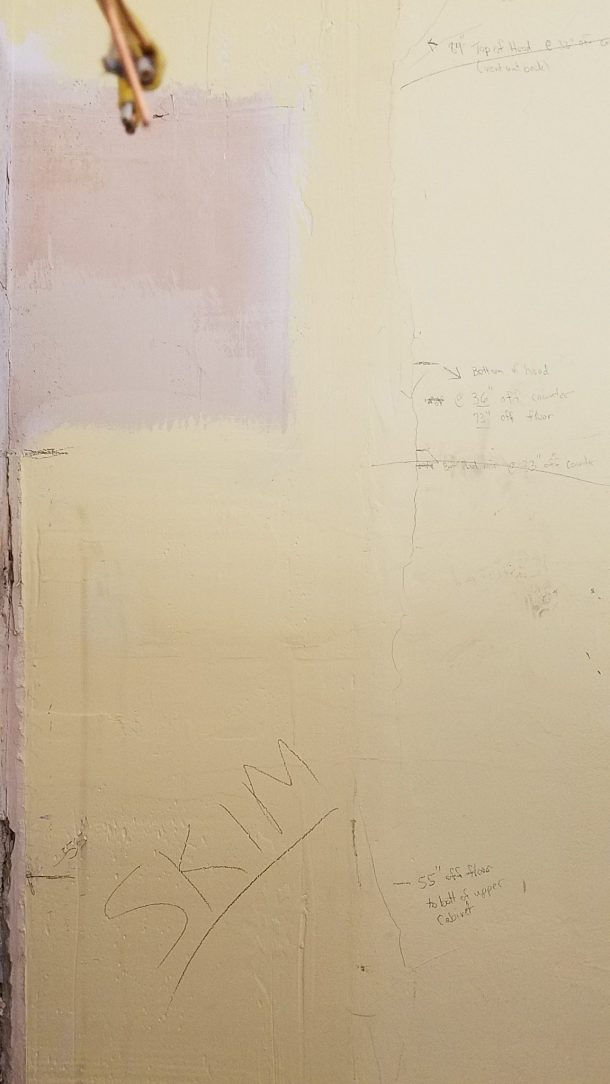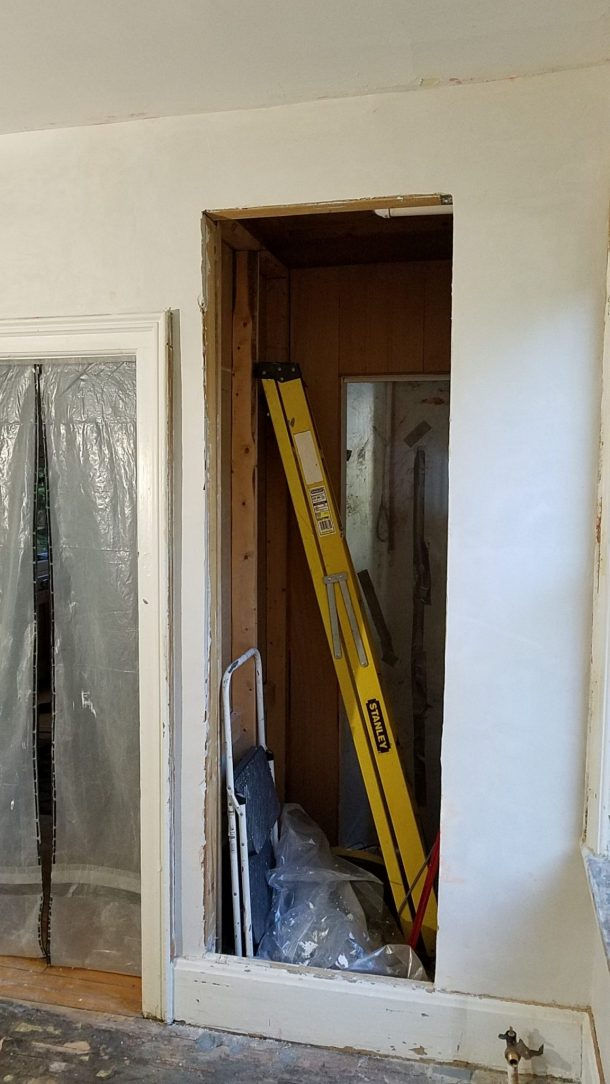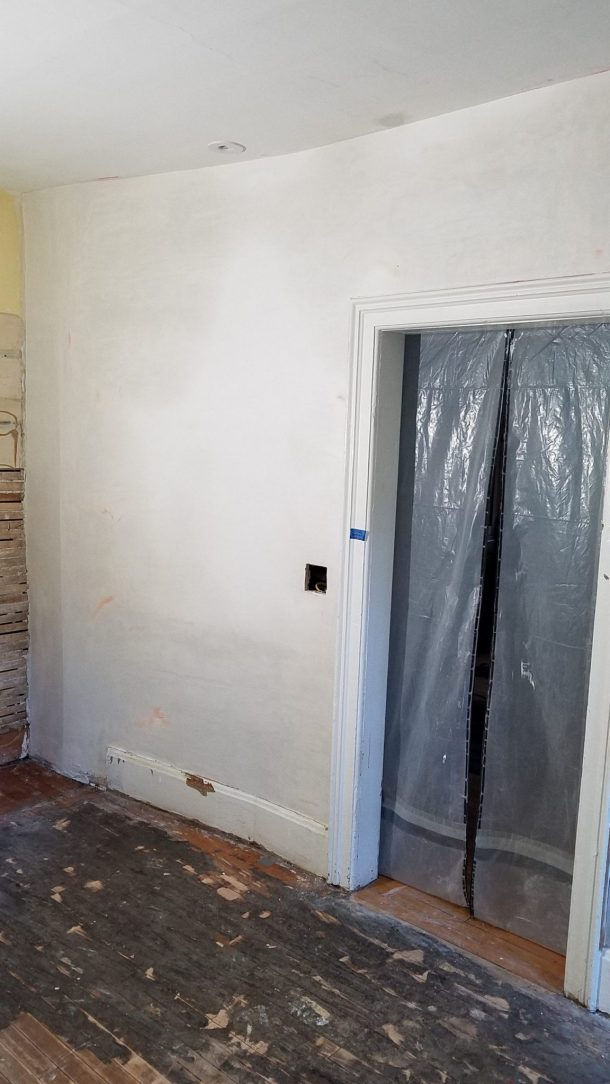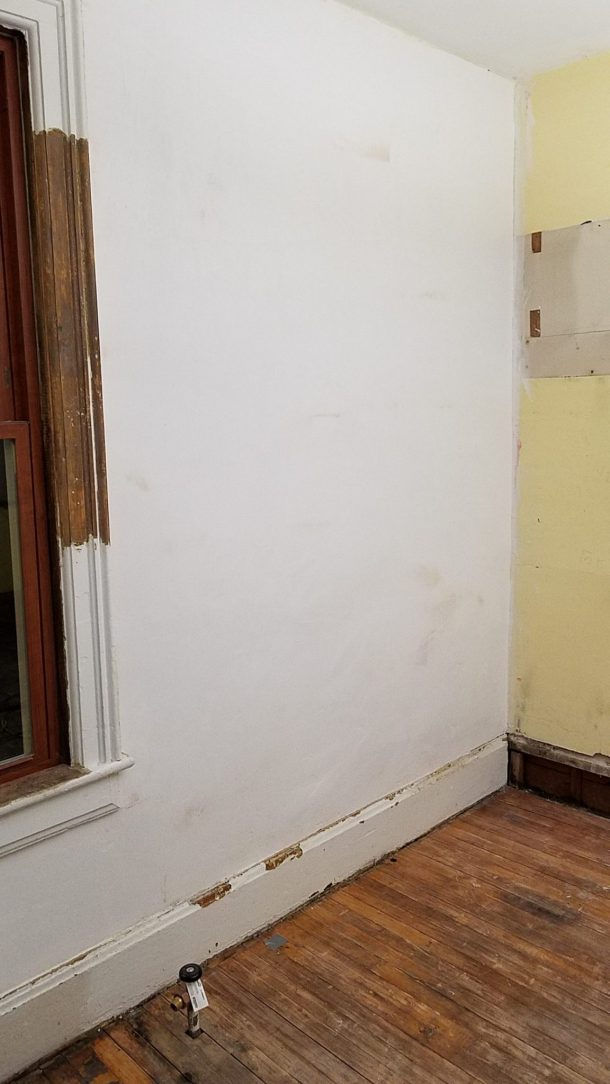 Trim and Millwork Staining/Finishing
---
Now back to the trim that was previously sanded and ready to stain. We want to stain the trim prior to painting, because staining is a messier process, and we can cut-in the paint lines a lot cleaner with a brush, after the staining is complete.
Scuff off any plaster residue that may have been left on the trim from the wall repair.
We applied one coat of wiping stain (some applications and wood species require more).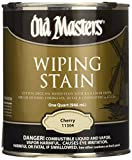 After a 24 hour dry time we applied to coats of Graham's Ceremathane (water based urethane). with a minimum 2 hour dry time between.
Beautiful results! All that hard work was worth it!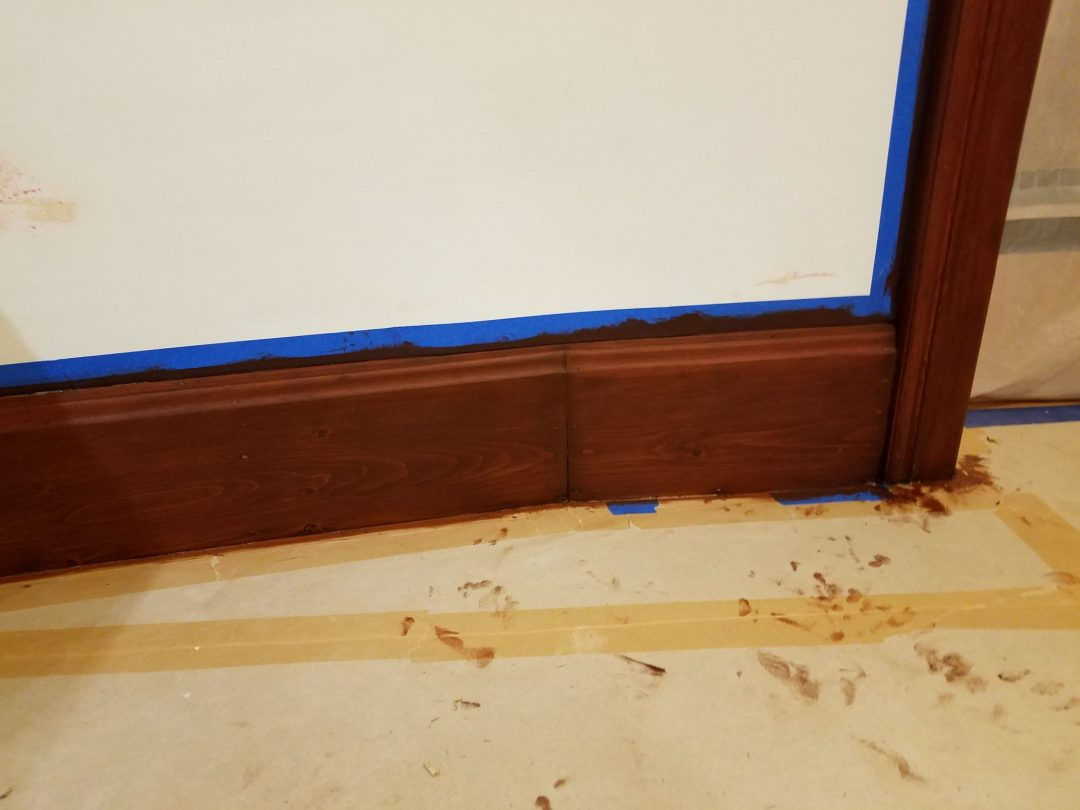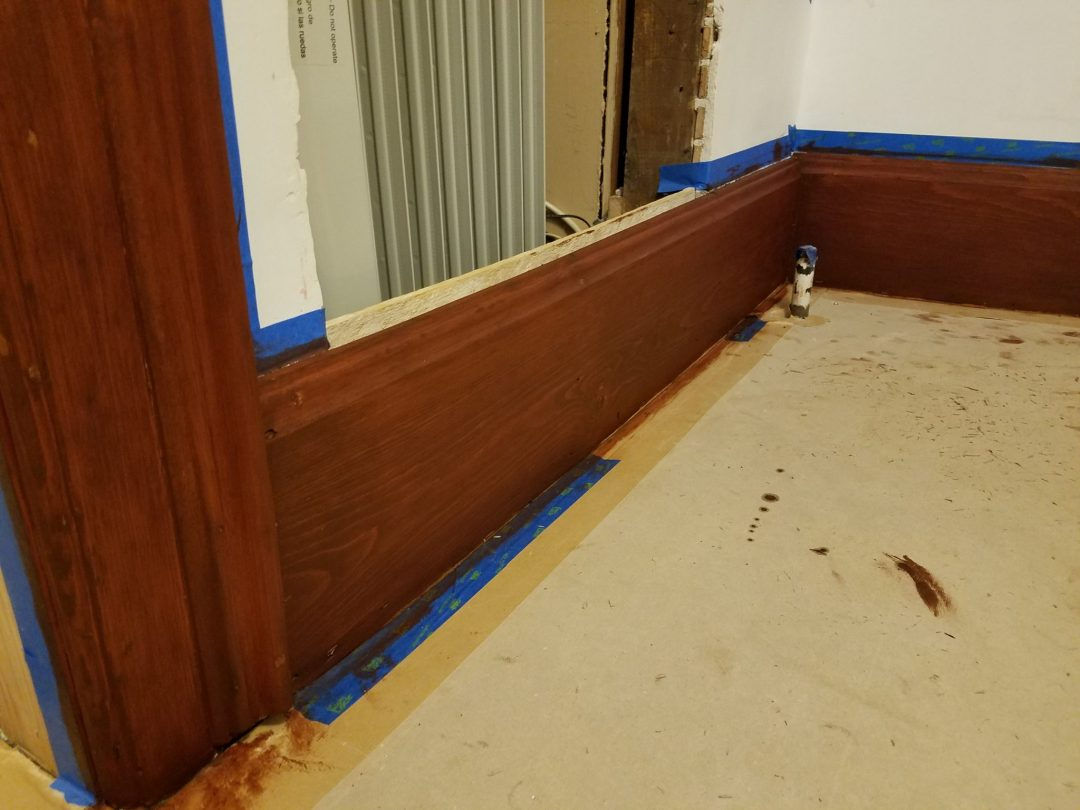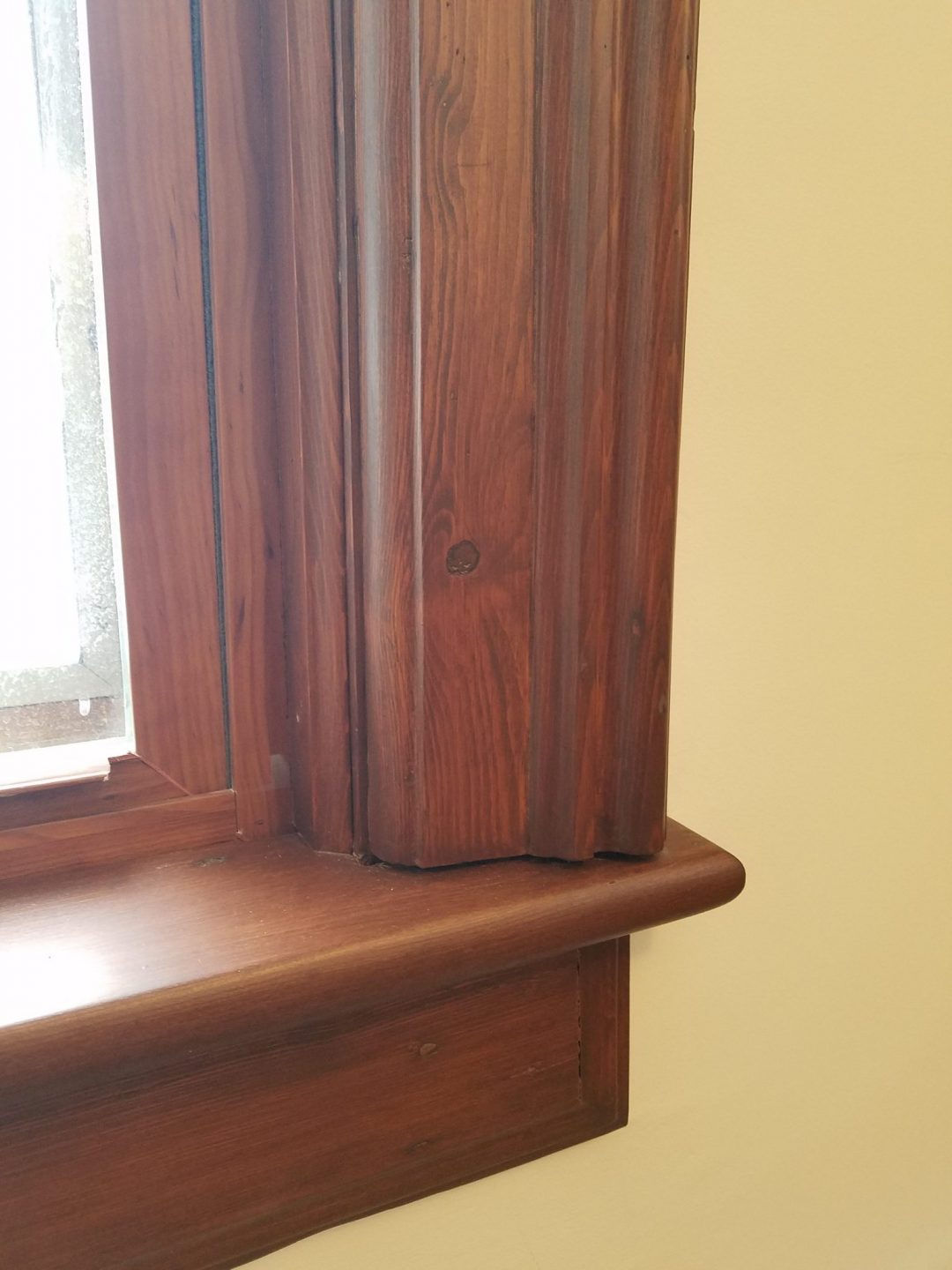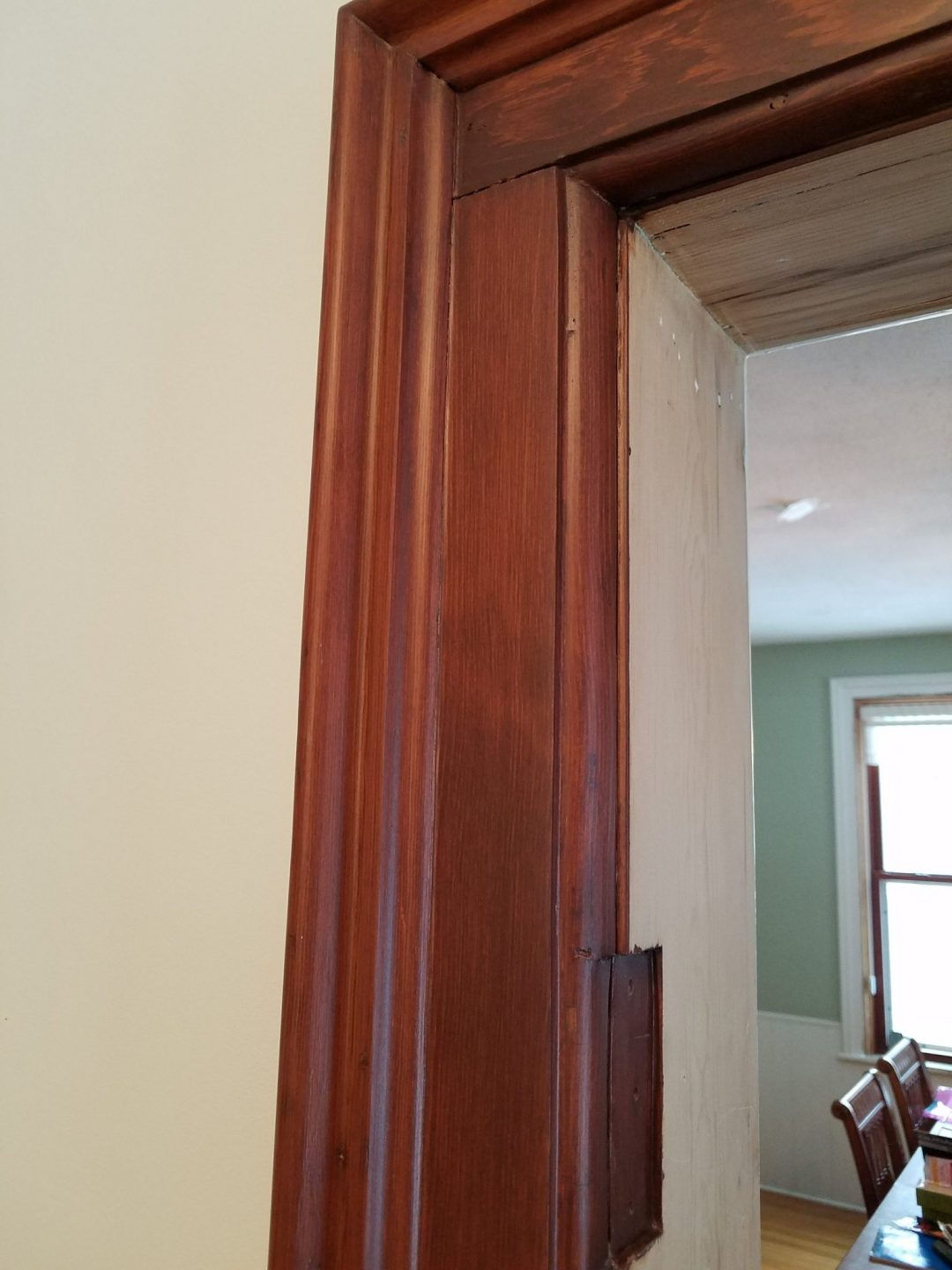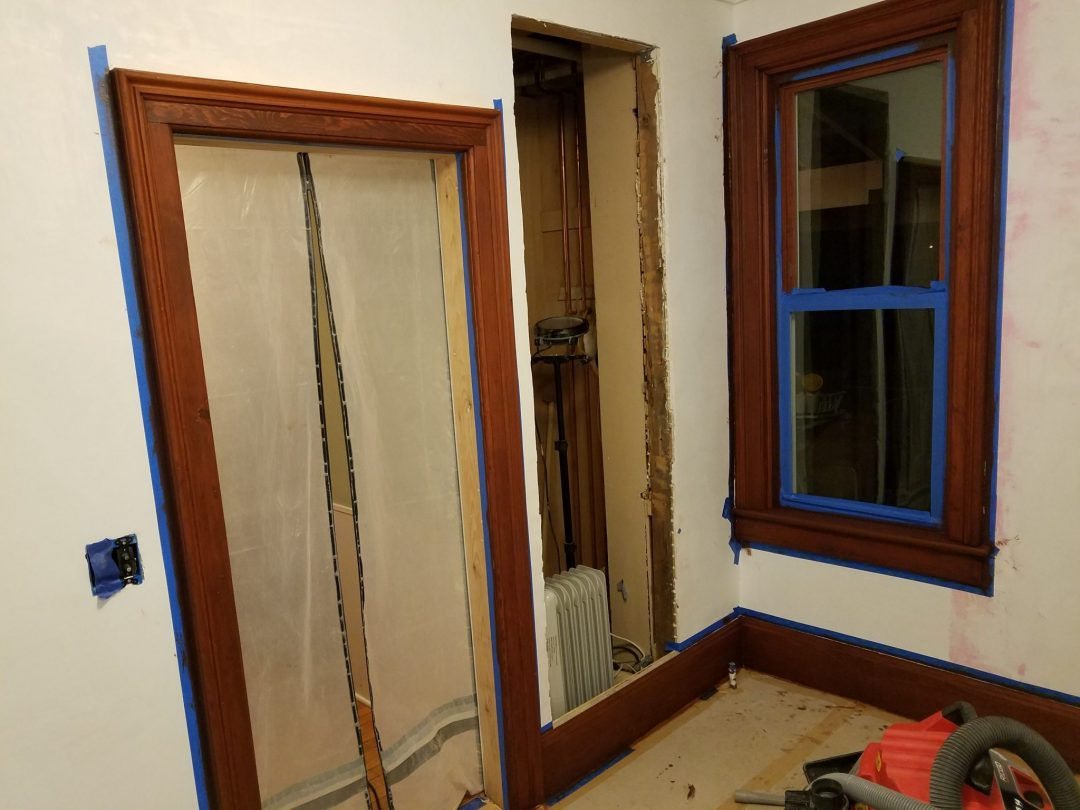 Kitchen Remodel – Wall Painting
---
The hardest part is picking out the right color…am I wrong? It seems like we always end up with at least 15 different shades of blue or white, or any color. It's the worst! lol
Final sanding (120 grit) of the walls to smooth out any remaining sand scratches.
We applied two coats of Benjamin More Grip N' Seal, which is recommended for plaster applications.
Then we applied 2 coats of "Antique White" to the walls.
Done!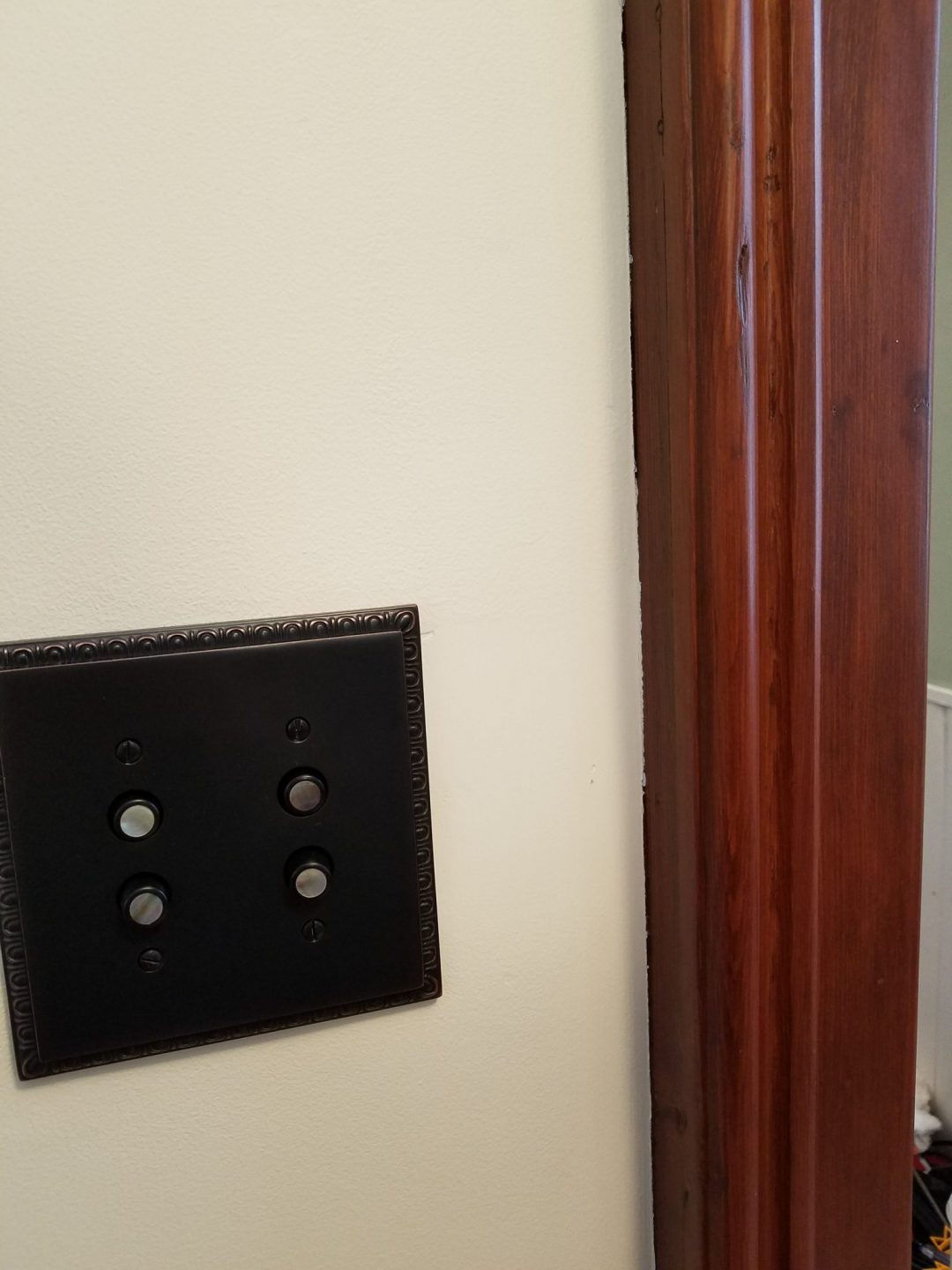 Kitchen Cabinet Installation
---
Finally, the day we all have been waiting for has now arrived! The cabinets are here!
Cabinets are complete, and topped off with Benjamin Moore Classic Colors: Stonybrook.
Stonybrook is a very interesting color – from morning/mid-day/evening, it changes from greenish, to grayish, to blueish…three colors for the price of one!
Shim to fit, plumb and level, and attach to your marked wall studs.
Upper cabinets installed.
Range hood cabinet installed.
Lower cabinets installed.
Right side refrigerator panel installed.
4″ basic cove crown molding installed.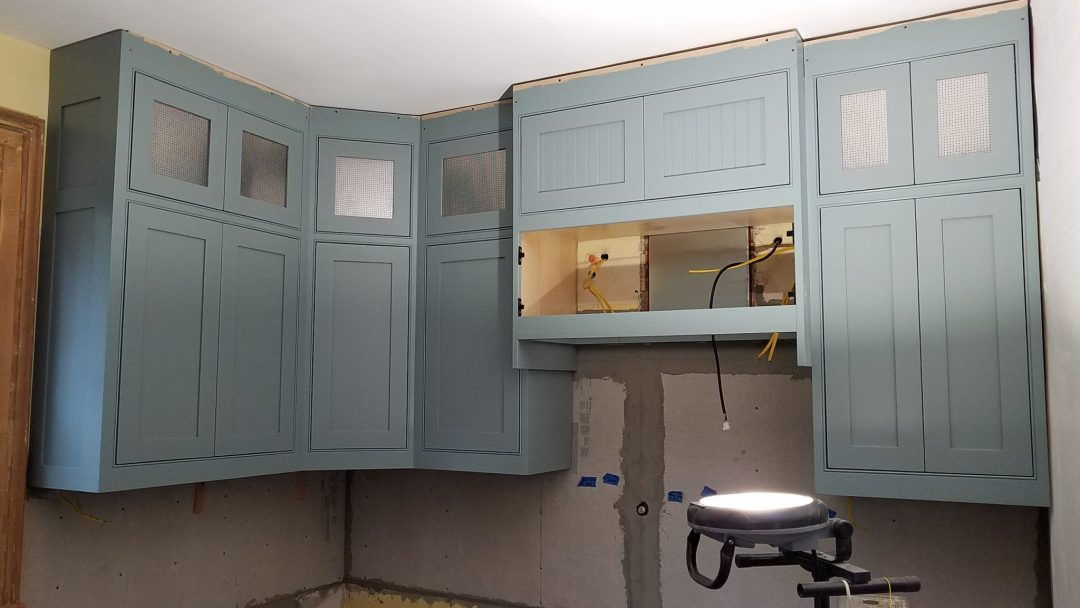 Farmhouse Kitchen Remodel – Cabinet ready for range hood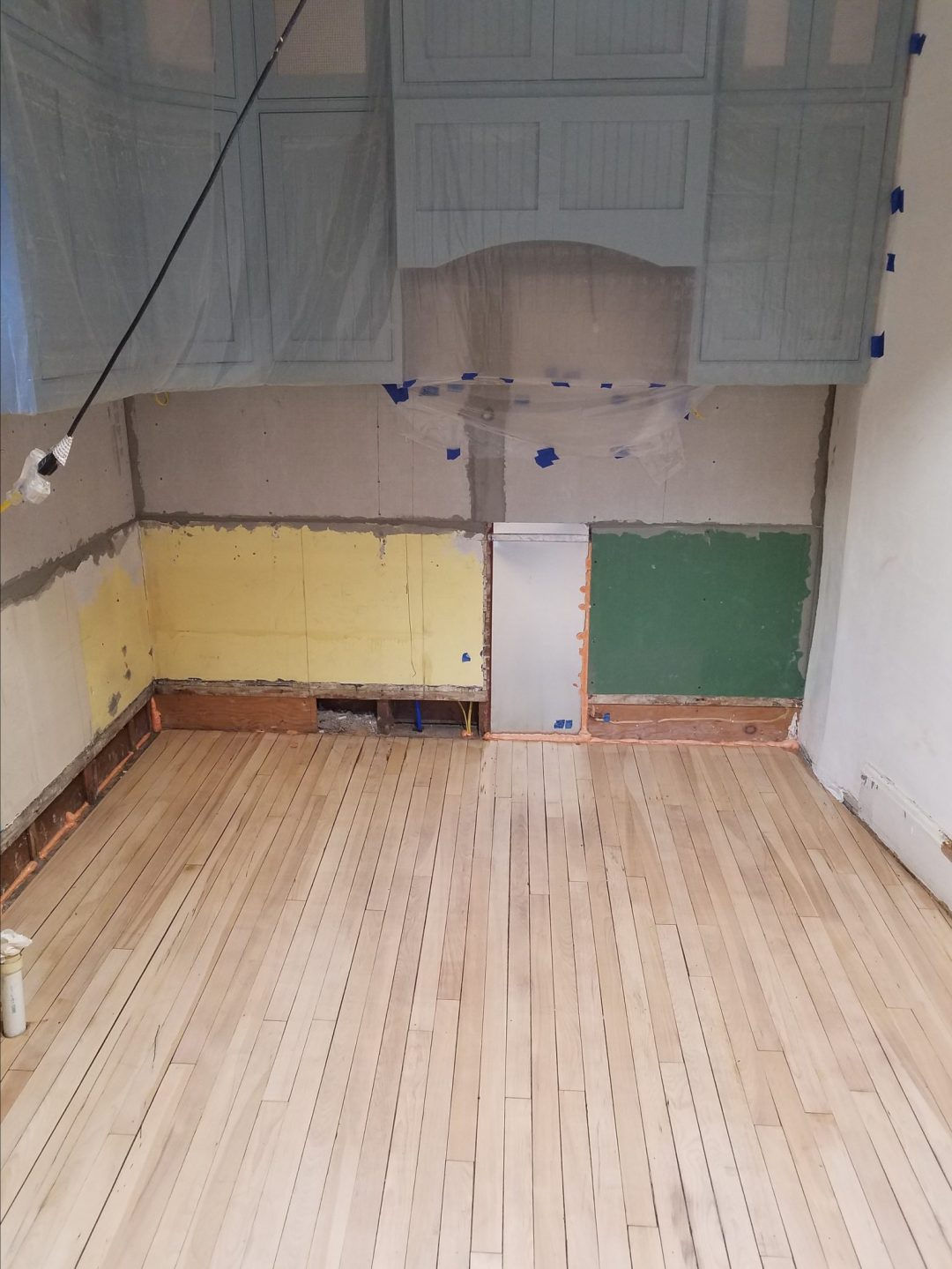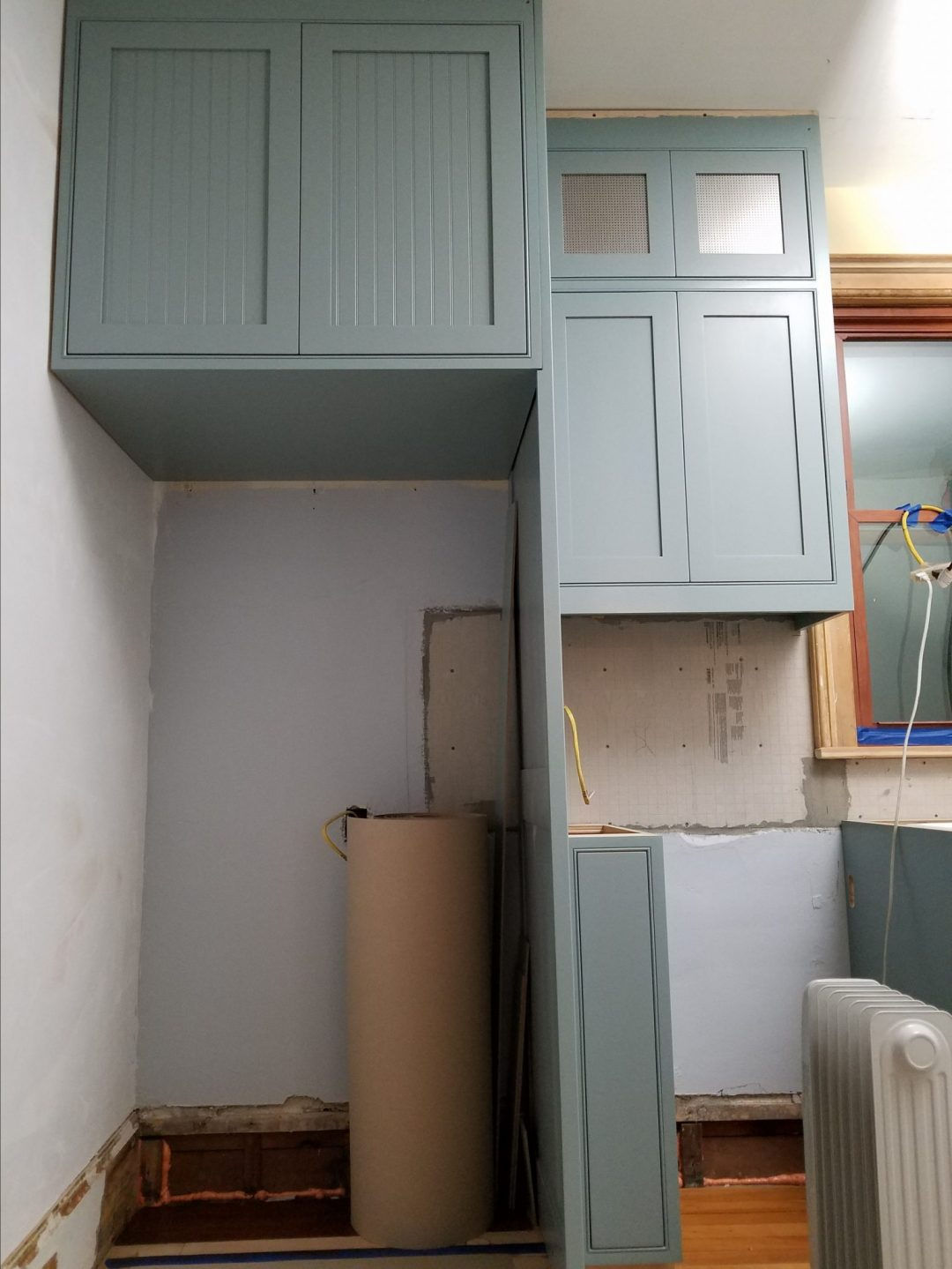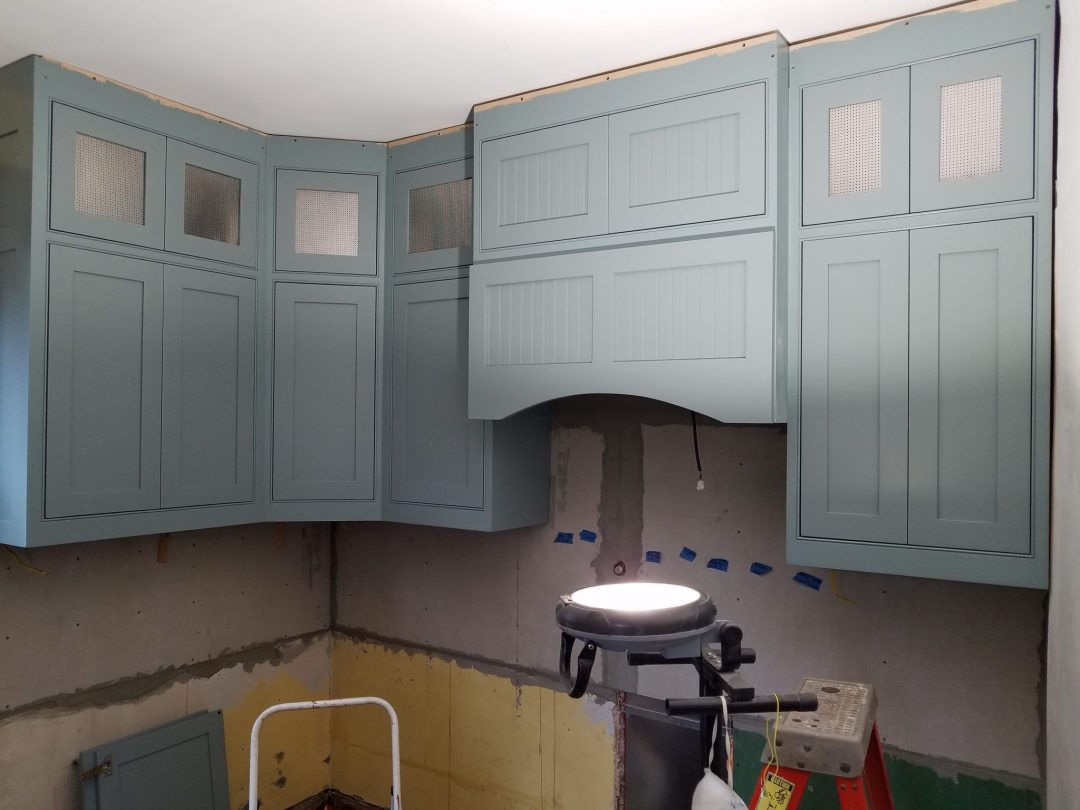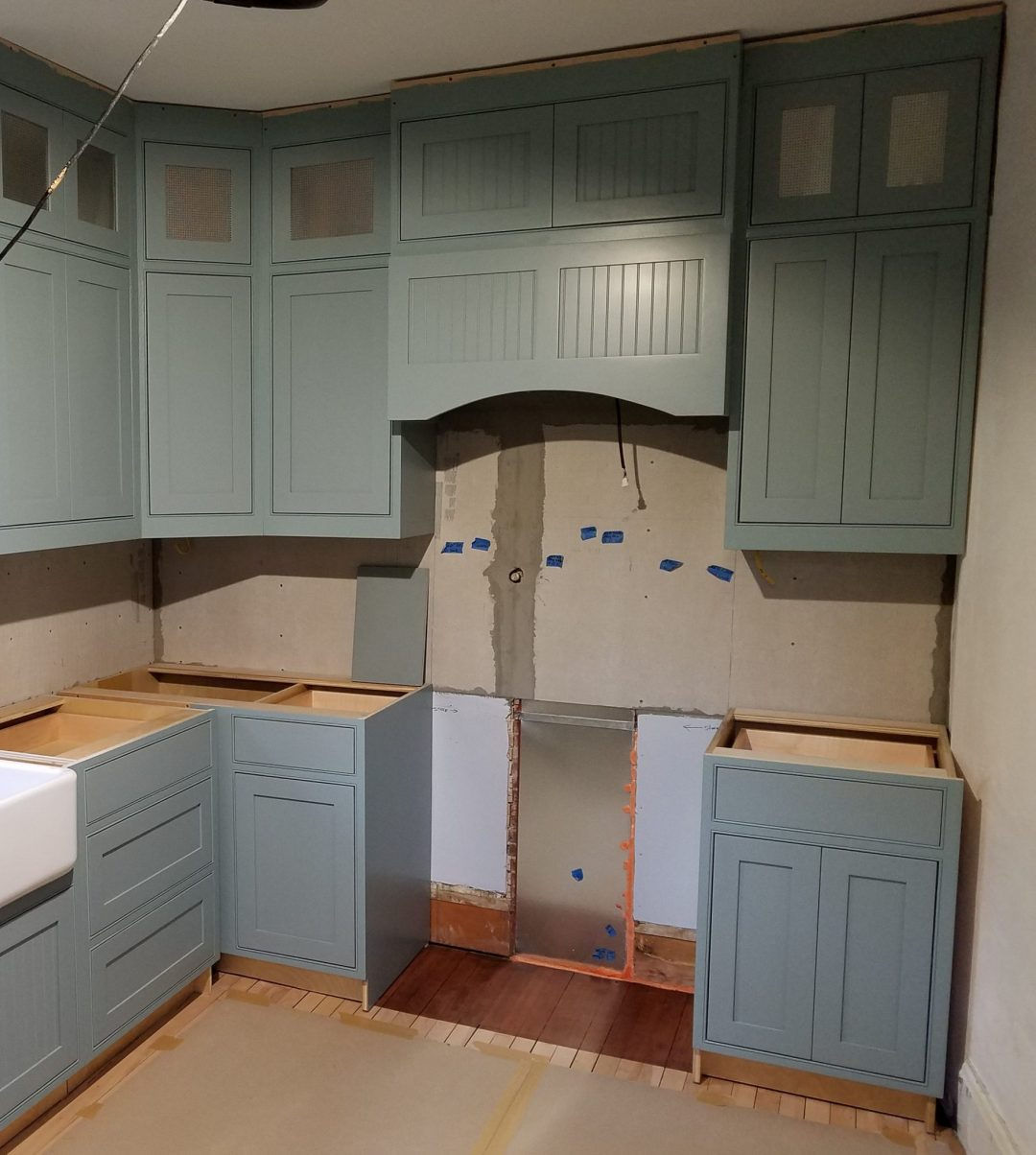 ACTION ITEM: Remember that the countertops are a LONG-LEAD item, and final measurements cannot be taken until the cabinets are installed. After kitchen cabinet installation, make sure to have the countertop contractor on site to measure, so you don't have to go without countertops for too long.
TIP: Our kitchen cabinet maker also built our countertops. He made the countertops ahead on time, and left them a bit long, for final trim onsite. This allowed for countertop installation just days after the kitchen cabinets…and not weeks! Big box stores may not do this, but it's worth it to ask…




Kitchen Doorways and Surrounds
---
If your kitchen has any doors/surrounds, you would install at this stage. This step was not applicable for our kitchen remodel.
We are really making progress... and are more than halfway finished now! Stay tuned for the next step as we cover the final phase of execution (backsplash, countertops, floor stain, appliances, and more) – Vintage Kitchen Remodel: Part 5 - Installation and Final Trades
Need more kitchen ideas, or want to see the full list of items used on our farmhouse kitchen remodel?
Best of luck, and keep on Fixing!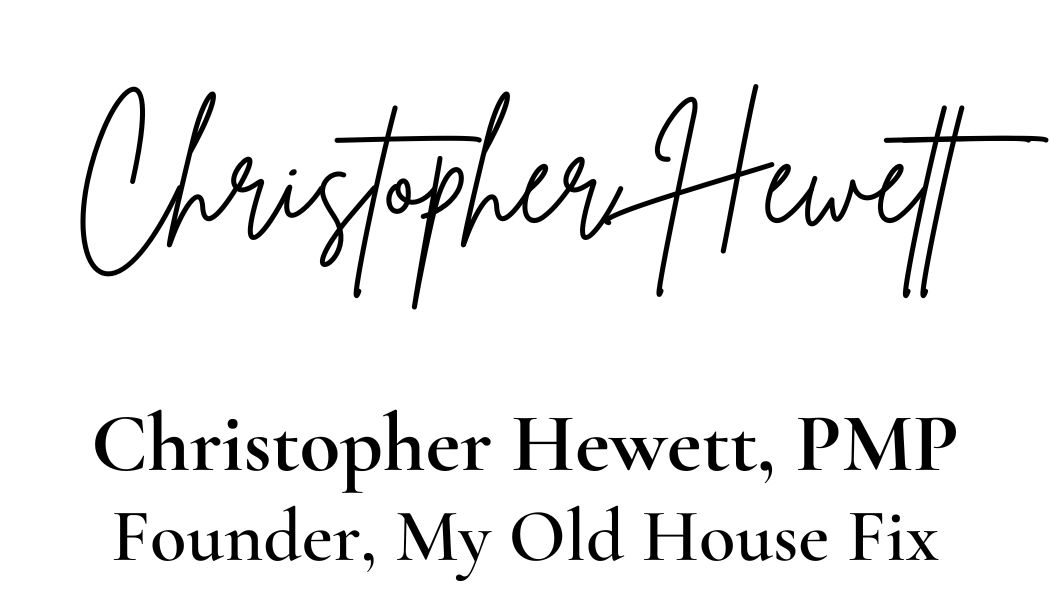 For more info visit: www.myoldhousefix.com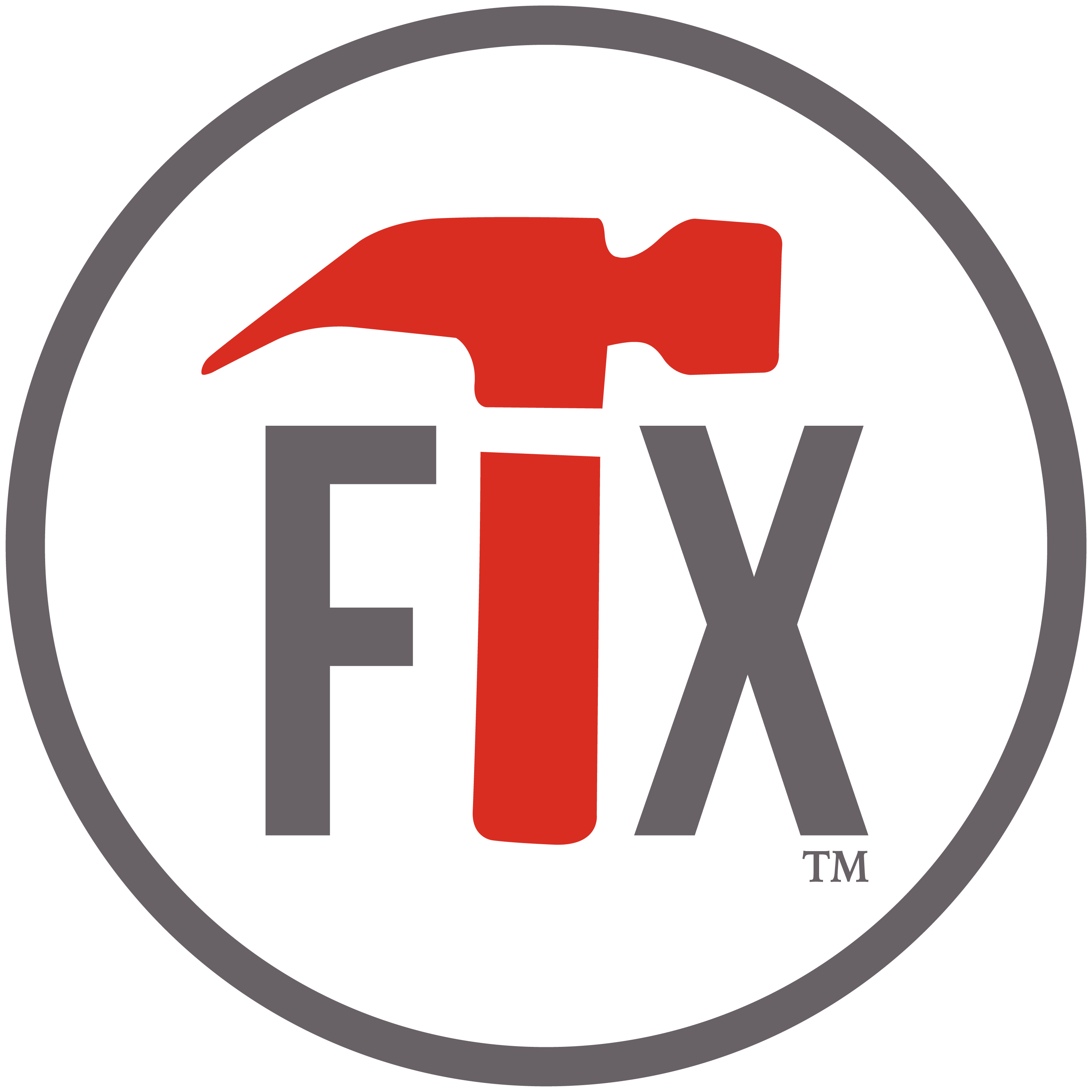 Posts may contain affiliate links. If you use these links to buy something, we may earn a small commission (at no additional cost to you). Full disclaimer HERE.
---